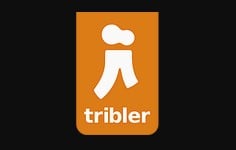 The Tribler client has been around for almost 15 years. During that time it has developed into a truly decentralized BitTorrent client.
Unlike other torrent software, the project is managed by a group of researchers who have their main lab at the Delft University of Technology.
Impossible to Shut Down
From the early days, project leader Professor Johan Pouwelse strived to create a file-sharing tool that would be impossible to censor or shut down. Later, Triber also added several anonymity features.
"The only way to take it down is to take the Internet down," Pouwelse told us previously.
Last week the latest stable version of the torrent client was released. As its userbase is limited the announcement didn't get much airtime. However, when we decided to take a closer look at the latest release, it's clear that some pirates are using it to its full potential.
Tribler is different from most other torrent apps because it also allows users to find torrents. In addition, people can create and follow channels that archive curated content. This all happens without any central servers getting involved.
In theory, torrent sites can republish all their files on a Tribler channel. This would then be virtually impossible to shut down, as all the metadata – including the channel itself – is shared across the network.
Dedicated Torrent Site Channels
When these channels were first introduced a few years ago there wasn't much action, but today there are some pretty big channels on there. While they may not be 'official' copies of torrent sites, it's clear where they source their material from.
The largest channel on Tribler at the moment is "RuTracker unofficial," which lists more than two million torrents from the popular torrent site. RuTracker is currently banned in Russia but through Tribler, these files are easily accessible.
Other popular channels also carry the names or brands of known pirate sites. This includes NYAA Torrents, with most than 60,000 files, as well YIFY, MVGroup, and EZTV. There are also more generic names such as 'ebooks', 'Sci-Fi Movies' and 'Things and stuff.'
These channels will all survive and live on as long as people continue to seed the files, even if the sites from where they originate are long gone. If outsiders have the desire, they are impossible to shut down, just as intended.
No Gatekeepers, No Censorship
TorrentFreak spoke to Professor Johan Pouwelse who says that the Tribler team has no control over the content that appears in the client. The researchers just offer technology, which appears to be popular among pirates.
"Tribler is deliberately created as a system without kings. It avoids all gatekeepers and gives all power to the people. It's social and popular stuff floats to the top. This is an open network that efficiently taps into existing BitTorrent content," Pouwelse says.
Professor Pouwelse couldn't remove any files if he wanted to and the same is true for channels, which are torrent swarms on their own. This also means that they thrive when more people use them.
"Tribler channels should be as robust as BitTorrent swarms themselves. Actually, Tribler channels are BitTorrent swarms with magnet links," Pouwelse notes.
Tribler's Downsides
While a truly decentralized torrent client with anonymity features is certainly impressive, the technology also has its downsides. Discovering new content can take time, as all information comes from other people in the network. Also, more anonymity means more bandwidth usage and slower downloads.
This means that, for the average torrent user, Tribler can be frustrating at times. However, that doesn't take anything away from the fact that it's the most technically progressive torrent client out there. Aside from decentralization and anonymity, there's a built-in crypto economy as well.
The new 7.5 release that came out last Friday is available for download on the official site. It includes several smaller updates and improvements as well as a complete overhaul of the internal core, which should make the application faster and less resource-intensive.