Lady Gaga has been in Australia since mid March. She celebrated her 24th birthday at a concert in Melbourne and had her final show in Sydney on Wednesday.
Yesterday, US-based music news site Earsucker.com reported on a rather interesting Gaga leak, not a new or secret track, but her detailed itinerary from April 4th until today. The documents were leaked by one of her staff (pictures below).
In a letter dated today, Music Industry Piracy Investigations (MIPI), an Australia-based anti-piracy group, began threatening Earsucker.com. They claimed that publishing the itinerary was an infringement of copyright and breach of confidentiality "which may result in significant loss and damage" to Lady Gaga. Remove the item, or else, MIPI informed the site.
Earsucker refused to comply, noting that as a US-based site they are not bound by the Australian laws MIPI cited and adding that they were not the original leaker or publisher of the material, and are further protected under journalism shields. Earsucker also issued an infringement counter-notification.
"What can I say except that a goon in a suit in Australia is no different from a goon in a suit here in the U.S. (though they get to subject their own citizens to much more draconian censorship)," Earsucker VP Stephen VanDyke told TorrentFreak.
VanDyke told us that he's "just trying to mess with the international goons" before the US gets hit with ACTA and they are actually allowed to bring claims cross-border, adding: "I urge people to do whatever they can to harass and be a general nuisance to the censorship regimes, even if it means cross-border Internet shenanigans with folks like MIPI."
"These people should really get a clue about the Barbara Streisand effect. I mean, now TorrentFreak can distribute the images and news of the images (everyone must know!!) and further mess with them, and who knows where this stupid itinerary photo could end up," VanDyke concluded.
Lady Gaga Itineraries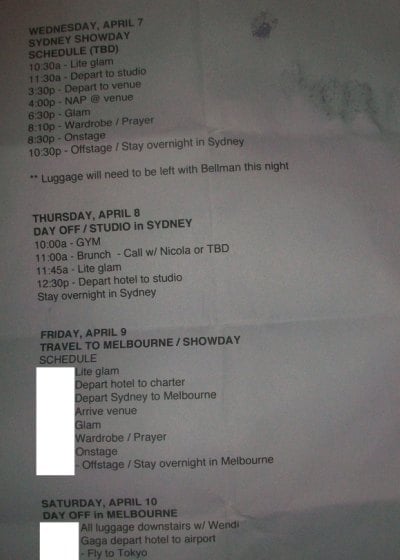 Another One