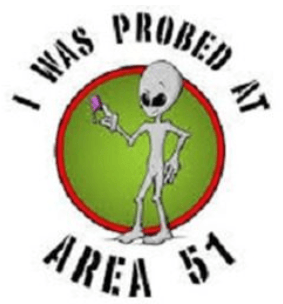 Running in their own niche alongside traditional streaming portals and torrent sites, pirate IPTV services have, over the past several years, become the "next big thing" in online piracy.
With relatively humble roots there are now seemingly hundreds of suppliers, some near the top of the tree with others simply rebranded versions of similar services. It's reportedly a billion-dollar business in the United States alone but one service that recently stopped adding to that tally was Area 51.
Area 51 Announces its Shutdown
In late June, customers of Area 51 began receiving emails with the sender marked as '[email protected]', denoting one of the streaming platform's official domains. It revealed that after several years of active service, Area 51 would be shutting down.
"We have been forced to make this very difficult decision, and close Area 51. We had quite a run, and we wouldn't have been able to do it without customers like you," the email began.
With little other information available through public channels, speculation that the service may have run into legal trouble wasn't far away. However, when pirate IPTV platforms disappear, they usually do so fairly tidily, but that wasn't the case here.
The email from Area 51 indicated that another "amazing company" called Outer Limits would be taking over all of Area 51's customer accounts, suggesting that subscriptions wouldn't simply be lost. Indeed, former Area 51 clients were told to log into the Outer Limits site (outerlimits.info) with their current client area login credentials.
Resurrections/Rebranding Don't Sit Well With Copyright Holders
Soon after, customers received another email, again from Area 51. This gave more information, stating that some of the team had decided to "move on to other ventures" while some had "just decided to focus more on our families." However, earlier references to using Outer Limits were gone, replaced with a new brand purportedly taking over – Singularity Media.
"Hello and welcome to Singularity Media. We have taken over your account from your existing IPTV provider," an email from the provider to its new customers explained.
"Your account remains the same and we are now looking after it for you. This means your logins remain the same."
The announcement was certainly curious. If Area 51 had been subjected to legal threats from any credible entertainment anti-piracy group, directing customers to a new pirate service would be forbidden under the terms of any agreement following a normal cease-and-desist order.
So, given the rumors that some or all of the Area 51 team may have been personally served with orders to shut down, it wasn't really a surprise when reports surfaced days later that Singularity Media would be shutting down too. Its URL is still dead but we can now reveal that Area 51 was indeed subjected to legal threats.
Domains Seized By the Alliance For Creativity and Entertainment
Area 51 operated various aspects of its service from several domains, including area-51-hosting.host. In addition to being identified as the sender of the 'shutdown' email, this domain acted as a sales portal for Area 51, offering packages at $10 per month up to a yearly subscription of $120.
After almost two months of uncertainty, we now confirm that the ownership of this domain has now been transferred from the Area 51 team and into the hands of the MPA which represents the major Hollywood studios and Netflix.
As previously reported on numerous occasions, including the shutdown of the Vaders service, when the Alliance for Creativity and Entertainment arranges for a domain to be seized, it is transferred to the custody of the MPA.
<
We can also confirm that at least two other domains previously operated by Area 51 are also in the hands of the MPA, including area51tv.stream and theuforepo.us. The latter, a reference to 'the UFO repo', was deployed by Area 51 as a repository to host various APKs and plug-ins used to access the service.
A Simple Shutdown – Or Will the Area 51 Mystery Continue to Unfold?
In common with its Nevada-based namesake, the now-confirmed shutdown of Area 51 has the potential to fuel more conspiracy theories. The big question, of course, is whether this matter is now over as far as the massive global anti-piracy coalition ACE is concerned or if there's more action to come.
One only has to look at the sudden shut down of the Vaders IPTV service last year and the official announcement, arriving months later, that revealed that Vaders' operators had agreed to pay ACE members $10m in damages. Whether that will be repeated here remains a mystery.
At this stage, it's hard to say precisely what aspect of the Area 51 service was focused on by ACE lawyers but given recent lawsuits, including one against Clear View Media first reported by TF last week, Area 51's VOD offering seems a likely candidate.