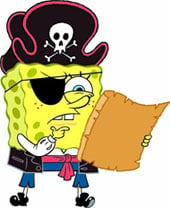 There's a persistent theory that people exist who are using pirate sites but don't realize that they're unauthorized and/or illegal. While that seems likely, it's hard to believe the volumes are particularly significant.
Nevertheless, numerous campaigns have attempted to enlighten consumers as to what is and isn't legal and this week the Federation Against Copyright Theft raised the issue once again.
Tagging onto UK anti-fraud awareness campaign Take Five, the anti-piracy outfit asked people to take five minutes to consider the legality of the site or service they're currently consuming.
FACT's advice above is basically sound. They ask people to do their research on the sites FindAnyFilm and GetItRight, both of which should give consumers an idea of where content can be obtained legally. Trouble is, neither resource is comprehensive, so five minutes of research could turn into ten or fifteen, by which time people could get bored of trying to do the right thing.
So, with this in mind, here are a few light-hearted tips to help people spot whether the site they're using is authorized by the movie industry or a product of a swashbuckling mind.
Does the site want your name, address and life history?
If the site you're accessing looks really polished, has a positive Wikipedia page, but won't give you anything more than a trailer without handing over your full identity and credit card details, this is probably a legal platform.
Since they have to license movies from Hollywood and other filmmakers, sites like these cost a lot of money to run. As a result, they want your money to pay the bills and they like to make sure you can pay up front.
When you think about it, it makes perfect sense. No money, no access – capiche?
Does the site look polished but doesn't ask for a dime?
If the site you're looking at seems like the one mentioned above but doesn't seem to care who you are, this is starting to look like a pirate site. If it then offers up thousands of movies and TV shows without accessing your wallet or dental records, you're definitely on the high seas.
While this position is pleasurable for people with a penchant for piracy, there are plenty of points to ponder.
Is the site already starting to get on your nerves a bit?
You're browsing a site, looking at all the beautiful movies and TV shows on offer, then one takes your fancy. You click it with both anticipation and excitement but instead of the video appearing, a new tab or popup appears in your browser.
If this unexpected visitor offers a penis extension, a night out with a girl in your area, or a get-rich-quick scheme you feel you need but don't understand, this is probably a pirate site.
These stupid offers are the price you pay for not paying. This is how it works.
While movies and TV shows cost money to create and require financial support from the consumer, pirate sites use various techniques to obtain that content for free. Then, with a wave of a magic wand, they cover the costs of delivering it to pirates using advertising.
However, due to pressures put on them by the content industries, pirate sites generally have to serve up poor quality ads. Crappy ads everywhere = almost definitely a pirate site.
The movie site i'm using is really confusing, is it legal?
After obtaining your banking details, mother's maiden name, and blood type, legal sites are generally very straightforward. Pleasurably content and feature-rich, services like Netflix and Spotify are simplicity itself to use. Their interfaces are clean, tidy, and don't do anything unexpected. These are just some of the key features you get in return for handing over your money to a legal service.
On the other hand, however, if you're on a site that has six different download buttons and none of them seem to actually download anything, this is probably a pirate site, and a low grade one at that.
Back away quickly, regroup, and never go back – unless you have an ad-blocker turned all the way up to 11, of course.
Wow! This site has all the latest movies! Is it legal?
Some of Hollywood's greatest assets are its just-released movies. It holds these tightly, like a protective mother, restricting viewing only to those who pay large amounts of money for the privilege.
As a general rule, if you're watching them for free on the Internet, chances are it's not only unauthorized but probably illegal too. That being said, most people don't give a damn due to all the excitement, free content, and tiny chances of being caught.
Note: If a movie came out today, last week, or even last month, and you've spent a large sum of money to watch it alongside hundreds of noisy others in a big room while eating over-priced taste-free snacks, CONGRATULATIONS! You've found the only way to watch the latest movies legally.
I really love this site, it has everything I want in one place. Is that legal?
STOP. This is definitely an illegal site. While it is the movie and TV industries' job to entertain the masses, it also has a side mission to ensure that you will never – EVER – find all the content you want in one place.
Remember: to stay legal and have access to the broadest range of video content, you need to subscribe to several official services while handing over handfuls of cash every month.
If you find that after parting with large sums of cash you still can't find all the content you want, then you can be sure you're doing this by the book and entirely legally. Only people using pirate services find all the stuff they need in one or two places.
A service is offering me every TV channel for £10/$10/€10 per month. Legal?
If your local TV cable or satellite provider demands a pile of cash an inch thick to access every channel they have for a month, please be informed they have worked very hard to achieve that monopoly position.
There is no way on planet earth that another legal supplier will be able to undercut them by 90%. Yes, that includes fully-loaded Fire TV Sticks bought off Pete down the pub.
As a rule of thumb, if you're delighted with the 'special' TV service you bought off Facebook yet still have enough money to take the family out for a meal at a half decent restaurant, alarm bells should be ringing.
Legal buyers can generally afford to gorge on either TV or food. If you're full to bursting due to excessive consumption of both, you're either using a pirate service or have enough money not to need one.
These tips are not exhaustive – feel free to add your own in the comments