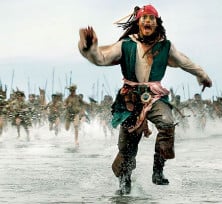 For years Australia has wrestled with the thorny issue of online piracy. Citizens have long complained of being treated as second class consumers, in many cases having to wait months or years for new content from the United States to appear Down Under. This has only fueled the uptake of illegal file-sharing.
While there are signs that plans for improved availability of content might be developing, impatient entertainment companies want action now, and talks with ISPs have failed to show significant progress.
The threat that the government could get involved if voluntary agreements can not be reached has always loomed in the background, and now it seems that the government is getting ready to act. According to Fairfax (subscription), as early as this week the federal cabinet will consider two proposals to crack down on illegal file-sharing.
The first proposal, of sending letters to those found infringing copyright online, will already be familiar to Internet users in the United States, France, New Zealand, Taiwan and South Korea. The idea is that persistent infringers receive subsequent and increasingly threatening letters in order to deter future offending but there is still debate whether such mechanisms are effective.
It will perhaps come as no surprise that the second discussion will center on the blocking or censoring of so-called 'pirate' sites by local ISPs, with the effect that their subscribers can no longer access them.
Andrew Maiden, CEO of ASTRA, the industry body for subscription TV, told Mumbrella that the legislative changes required to effect the above could be brought in as early as mid or late June this year.
"They have already made commitments to take action against piracy so I would think they would want to act sooner rather than later," Maiden said.
While there are few details on the proposed letter-writing scheme, entertainment companies will be hoping that there will be consequences for those who fail to heed advice to stop downloading and sharing copyrighted material. At this stage, however, no punitive measures are being reported for the Aussie scheme.
But even before letter writing begins, there are complex issues for the government to overcome. In the past talks between movie and music companies and Aussie ISPs have deadlocked over, among other things, who should pay for such a program. There are no signs that the parties have reached consensus on this or any other matter.
On site blocking, it is expected that entertainment companies will be allowed to go to court to obtain injunctions against sites such as The Pirate Bay, which will compel local ISPs to block the sites. This same strategy is being used in several countries in Europe, notably the UK, although not in the United States where many of the entertainment companies are based.
However, the big difference with Australia is that as a result of content being made available elsewhere first, Aussie citizens have already become adept at using VPN and proxy services to access legal services such as Netflix. The exact same techniques can be used to access a blocked Pirate Bay, for example.
With the Australian government having previously promised to make "significant" changes to Australia's copyright laws, the movie and music industries will be hoping that 2014 turns out to be a productive year. In the meantime, companies such as Google will continue to remind the Australian government that piracy is a pricing and availability problem.