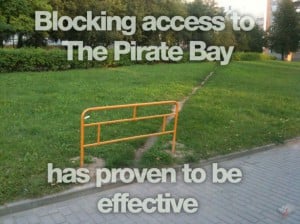 Australia has been called out as the world's piracy capital for several years, a trend local copyright holders hope to curb now that several pirate sites have been ordered to be blocked.
Earlier this week the Federal Court ruled in favor of key movie industry players, ordering ISPs to block access to The Pirate Bay, Torrentz, TorrentHound, IsoHunt, SolarMovie, and proxy and mirror services.
The landmark decision will make it harder for torrent users Down Under to visit these sites, but it won't be impossible. In fact, before the blocks are implemented many of them are already actively looking into countermeasures.
Depending on the blocking methods ISPs will use, bypassing them may be as easy as switching to an alternative DNS service. Another option is to use Tor, or special "pirate browsers," such as the one RARBG launched earlier.
Alternatively, a VPN service should also do the trick, as that will prevent ISPs from seeing users' traffic.
This VPN option is in high demand in Australia. Data from Google Trends reveals that interest in anonymizing services has surged, with searches for "VPN" doubling right after the news broke on Thursday.
Aussie VPN searches
TF spoke to several VPN providers who confirm this observation. Many have noticed an increase in both traffic and sales from Down Under.
"We had nearly double the number of visitors from Australia yesterday," ExpressVPN's David Lang informed TF, adding that they have little faith in the effectiveness of the court order.
"We are opposed to Internet censorship in any form, and in this case, we doubt the ruling will have a significant impact on torrent usage in Australia."
At TorGuard, Benjamin Van Pelt noticed a massive traffic boost too.
"Since the site blocking decision was made official we immediately began seeing a 100% increase in traffic from Australia. I fully expect this trend to continue and we have already begun adding bandwidth in our Sydney and Melbourne data centers to accommodate the influx," he says.
TorGuard's traffic spike
NordVPN observed a similar spike in traffic during the same period, which they see as a direct result of Thursday's ruling.
"There's 110% increase in new users over the past 24 hours from Australia. The court order made a strong impact and people are in search of privacy it seems," Iggy Holzman of NordVPN told TF.
Finally, the same is happening at Private Internet Access, where signups increased as well.
"After the news broke, we have definitely seen an increase in the region. I don't have stats other than overall signups, but nonetheless, that number has increased. Simultaneously, our analytics shows that Australia has increased more as well," PIA's Andrew Lee said.
It is safe to conclude that restricting people's access to pirate sites is not going to change everyone's piracy habits overnight. Looking at similar cases in the past, that doesn't come as a surprise really.
Earlier this year, research from Carnegie Mellon University showed that the UK blocks reduced traffic to pirate sites, but that they also significantly increased people's interest in VPN services.
Update: LiquidVPN's Dave Cox responded to our inquiry as well. He noticed a 17% increase in overall sessions from Australia and a 70% increase in new sessions from Australia, during the two days following the news.
—
Disclaimer: PIA, NordVPN and ExpressVPN are TF sponsors.