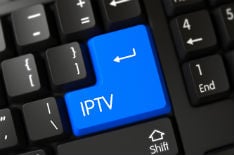 When UK citizens move overseas they often report missing out on basic things they take for granted at home. Colman's mustard, Yorkshire tea, Cadbury's chocolate, Kelloggs Cornflakes and Marmite all get a mention, but entertainment is often high on the list too.
Brits are known for their love of soaps, including the long-running Eastenders and Coronation Street, for example. Moving abroad often means missing out on these home comforts but for many years ex-pats have found ways to access these shows abroad, with many turning to various IPTV services to get their fix.
UKTVEverywhere – Endorsed by the Rich and Infulential
One of the services established to scratch this particular itch was US-based UKTVEverywhere. The service offered a long list of UK TV channels that on home soil were ordinarily covered by a regular TV license. However, by capturing these signals in the UK and broadcasting them worldwide, the service became popular with viewers overseas, including some notable celebrities.
For example, business tycoon and The Apprentice star Lord Sugar (Alan Sugar) regularly took to Twitter to reveal that he was enjoying the services of UKTVEverywhere while living in the United States. There was no obvious sign that he was getting paid for the endorsements but on more than one occasion the businessman promoted the IPTV platform.
Catching up on Eastenders on http://t.co/rd74p6UO5c .The writers need to put Alfie and Kat back in the vic.The new cast are a total joke.

— Lord Sugar (@Lord_Sugar) January 2, 2014
Similarly flattering comments were also tweeted by outspoken broadcaster and journalist Piers Morgan, who said he was using UKTVEverywhere to watch a UK football show in the United States and highly recommended the service to "all Brits living abroad."
About to watch #FootballFocus in NY using @Uktveverywhere – amazing device, highly recommend to all Brits living abroad.

— Piers Morgan (@piersmorgan) March 9, 2013
But despite these presumably free plugs from the rich and famous, UKTVEverywhere was running on borrowed time. Many shows broadcast on these channels are owned by divisions of two broadcasters – the BBC and ITV – and it appears they weren't happy with the IPTV service making money from its programming.
BBC & ITV Channels Disappear: The Beginning of the End
After previously noting that displaying their logos raised trademark issues, several months ago UKTVEverywhere announced that it would stop offering channels from the BBC and ITV. They weren't the only channels offered by the IPTV provider but given the target audience, that meant that the big soaps and other popular titles such as Doctor Who and Love Island would no longer be available.
Without these, ex-pats were unlikely to favor the service and sure enough, it eventually disappeared leaving subscribers high and dry with reportedly no refunds issued.
As many expected, the demise of the service was linked to legal action by BBC Studios and ITV, a fact now confirmed by a message on the site's homepage.
"This domain name has been transferred to the BBC and ITV in settlement of their copyright dispute against its former owner," it reads.
"BBC One, BBC Two, BBC iPlayer, along with ITV and ITV Hub are not lawfully available outside of the UK. It is an infringement of copyright to distribute, publicly perform or reproduce the content on these channels, without the consent of the respective copyright owners, or to induce such infringement."
A joint statement from the BBC and ITV puts more meat on the bones.
"As producers and distributors of premium content, we have the right and obligation to take action against piracy, in accordance with relevant laws in the territories we operate. Ensuring that our content is viewed legally, equally ensures we will be able to bring our viewers the programs they love and expect," the companies say.
"BBC Studios and ITV both produce thousands of hours of quality British programming, which in turn gives vital employment to writers, producers, cast and crew. Illegal streaming of this content means a wide range of workers were being deprived of their rightful earnings."
BritBox: New Domain Owner Standing By To Do Business
A check of domain WHOIS records reveals that the UKTVEverywhere.com domain is now owned by Denipurna Limited, a company associated with the BBC and ITV streaming service BritBox. Having launched in the United States during 2017, BritBox subsequently launched in Canada and then the UK, with an Australian release penned in for 2020.
Given that BritBox offers episodes of national favorites such as EastEnders and Coronation Street within hours of them airing in the UK, it is clear why both the BBC and ITV wanted UKTVEverywhere out of the market, a short-term mission that has now been accomplished.
However, there are dozens of other platforms offering similar services, including many mainstream 'pirate' IPTV suppliers, so the job isn't done yet, not by a long way.