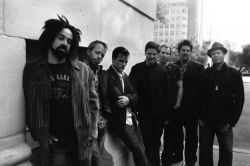 Last month Counting Crows released their latest studio album titled Underwater Sunshine (Or What We Did On Our Summer Vacation).
Fans have been waiting since 2008 for the release and it's selling well, but that won't prevent the band from giving some tracks away for free.
Counting Crows decided to team up with BitTorrent Inc. and today they release a promotional bundle with the songs Untitled (Love Song), Like Teenage Gravity, Hospital, and Meet on the Ledge.
The download, which also includes high-resolution album artwork and liner notes from lead singer Adam Duritz, is available to BitTorrent's 150 million users and will be bundled with all new downloads of the uTorrent client.
While this isn't the first time artists have used BitTorrent's promotion program to share their works for free, Counting Crows are perhaps the biggest name thus far. To find out why the band decided to embrace BitTorrent, TorrentFreak caught up with Adam Duritz.
"I've been a big proponent of giving songs away for a long time," says Duritz, explaining why the band decided to share their music on BitTorrent.
While the singer doesn't endorse people simply taking stuff, he realizes that BitTorrent can do a lot of good for musicians.
"I can dwell on the negatives, but I don't want to miss out on the fact that there's 150 million people who I can give songs to. You either treat it as just a money drain, like the record companies do. Or you can treat it as it actually is, which is a conduit, meaning it runs both ways."
"You can either cry about it or make use of it. File-sharing is no different from the rest of the Internet, it is a tool that connects the entire world. It is the cure for Babel," Duritz adds.
According to the singer the Internet is a "huge benefit" to music. Counting Crows realized this early on and started posting about their music on a message forum in 1995.
In the years that followed the music industry changed dramatically. But while the record labels have been complaining bitterly, according to the band's frontman musicians are actually better off.
"Record business was never all that great for bands. It was always a 99 percent failure rate of bands. Even if you did do well record labels took 80 percent of your revenue and locked up your rights. And they are completely incompetent," Duritz told TorrentFreak.
BitTorrent, the Internet and technological advances have democratized music and made it more accessible than ever before. Promotion is not centralized through the labels, but now works through bloggers, social networks and music services.
"On the Internet dependent bands can survive. Perhaps they don't become megastars, but at least they can survive and thrive. And there's a lot of great music out there right now."
People make their own radio stations now according to Duritz, and BitTorrent plays a vital role there.
"If you got 150 million people on BitTorrent, then that's the new radio station. That's a better radio station in fact, because people have the choice to play it as much as they want and stop when they get sick of it."
"I can't believe everybody's not doing it," Duritz says, adding that it's much better than bribing radio stations or record stores.
"It's a no brainer to me and now that we're an independent band we don't have to listen to a bunch of idiots who tell us what we should or shouldn't do. We can have smart people or we can trust ourselves."
The Counting Crows frontman is no stranger to BitTorrent either. He knows sites like crows-town.com that are devoted to sharing his concerts, and he supports them.
"I gave birth to these websites basically because we've been encouraging people to tape concerts from the very beginning. We're a good live band, so they're going to want to listen to it. It would be great if we could sell concert recordings, but we don't have to monetize everything," Duritz told us.
"I have a whole wall of bootlegs in my house, not of us, but of other bands. So it would be a little hypocritical if I started getting angry at everybody else now. I think it's a great thing and don't know why bands have ever fought people recording shows because it's a great advertisement for your product."
So in part these torrent sites act as a promotional tool. And that's exactly the reason why Counting Crows is partnering with BitTorrent.
"Giving songs away will draw people to the record, it will also draw people to the tour that's coming up. Those are pretty big things. The fact that you can give something to that many people is not a small thing," Duritz says.
"As an artist it's what you've been wanting to do all along, which is to get your music to people."
That said, Duritz thinks people will continue to buy music. However, they want sincere artists who charge a reasonable price, and not a band that's backed by a record label people don't trust.
"I believe in the future of the music business, just not the record labels," he concludes.
For those who are interested, the Counting Crows bundle can be downloaded here.