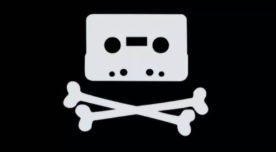 Over the past two decades, the music industry has witnessed several shifts in music consumption. First, CDs were traded in for downloads and in recent years streaming has taken over.
Despite the growing availability of legal streaming services in many countries, the piracy problem hasn't disappeared. In just a few clicks, virtually every music track can be accessed for free through unauthorized sources.
In an attempt to prevent these infringements, the BPI and other music industry groups send millions of takedown notices to Internet services every month. Although all major search engines are targeted, most of these requests are directed at Google.
With roughly a million URLs reported to Google every week, the BPI is the most active music industry sender. When added up the numbers are substantial and have just resulted in the music group hitting a new milestone.
After crossing the mark of 500,000,000 reported links, the BPI has become the second most active reporter after Rivendell. It also means that, of all the URLs reported to Google over the past several years, more than 11% come from the UK group.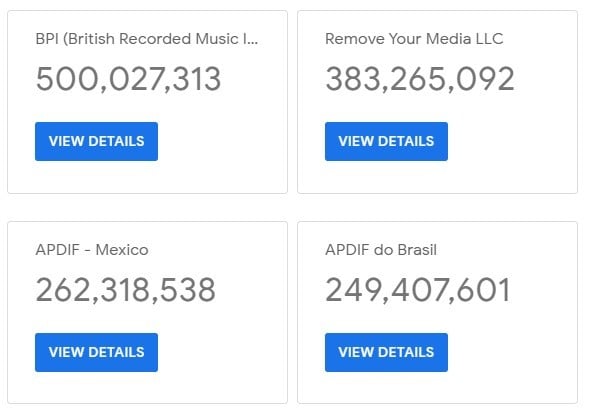 While the massive numbers open the door to mistakes, the BPI has a very decent track record. Close to 97% of the links are indeed removed by Google, which rejected less than one percent. The rest are either duplicates or links that aren't indexed.
For comparison, Google only removed 72% of Rivendell's reported links while more than a quarter were marked as duplicates or not listed in Google's search results.
Over the years, the BPI has flagged 'copyright infringing' links on more than 30,000 domains. Many of these are no longer operational. The top targeted sites that are still online today are 4shared.com and chomikuj.pl, which were reported 9.2 million and 7.9 million times respectively.
According to BPI Chief Executive Geoff Taylor, the new milestone shows that piracy remains a massive problem that requires the full attention of all stakeholders involved.
"The fact the BPI has had to delist half a billion infringing music links from Google alone, on behalf of UK artists and labels, highlights the staggering scale of the problem of illegal sites, as well as BPI's unwavering commitment to fighting for the rights of artists and their record labels," Taylor says.
In the past, the BPI stressed that companies such as Google should take more responsibility. These continued requests eventually led to a "code of practice" where major search engines committed to do more.
This has led to progress, Taylor says, noting that demotion of known pirate sites "has significantly improved the quality of results presented to consumers."
"The collaboration with search engines, including Google, sets a good example for online intermediaries and platforms, which must urgently take on greater responsibility to combat illegal content," Taylor stresses.
This is not limited to search engines but also applies to advertising networks, payment providers, hosting services, domain registries, and registrars.
"For too long we have accepted a reactive approach that places all the burden on creators to search for and police hundreds of millions of infringements of their rights across the entire internet. That approach cannot succeed," Taylor says.
"Instead we should expect reasonable, proactive, preventative measures by all online businesses, using technology and good business practices, to sweep the black market to the edges of the internet."
According to the BPI, these changes are achievable. If not voluntarily, then with a little help from lawmakers, to push these companies in the right direction.