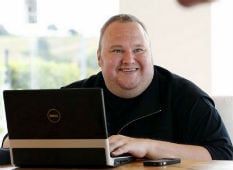 In 2012, as Megaupload's servers were being closed down in the U.S. and Dotcom's New Zealand mansion was being raided by armed police, the entrepreneur's offices in Hong Kong were being turned over by a reported 100 customs officers.
Under instruction from the U.S. government, HK$330 million (US$42.57m) in assets were seized and have remained restrained in Hong Kong ever since.
In April 2014, Megaupload launched legal action against the Hong Kong government, applying for the restraining order to be set aside while accusing the secretary for justice of procedural failings when the application for seizure was made.
In December 2014 came a breakthrough when a judge in the High Court set aside the restraining order. However, while an almost immediately lock was reapplied to Dotcom's assets, a revised order granted Dotcom's legal team the right to contest the asset freeze.
As part of that ongoing process, Dotcom's lawyers were back in court this week asking for the release of large amounts of funds, the equivalent of US$2.3m to cover legal costs plus US$52,000 per month for his living expenses.
In keeping with argument presented at his recent extradition hearing in New Zealand, Dotcom's legal team told the Hong Kong court that by restraining his funds and expecting him to mount a defense their client's hands "were tied behind his back."
SCMP reports that while Dotcom had a "world-class" legal team in the New Zealand hearing, he had no money left to pay them so had to use "junior lawyers." Money had now run out in New Zealand, so the funds in Hong Kong were the next best option.
But just like last year when Hong Kong authorities were accused by Dotcom's team of not making a "full disclosure" of the facts, this week the authorities sought to turn the tables.
Representing the government, prosecutor Wayne Walsh SC claimed Dotcom did the same after starting two new businesses and running transactions "worth hundreds of millions of dollars" through Hong Kong bank accounts. Dotcom was also criticized for not disclosing details of his living costs
Once a staunch supporter of Hong Kong, Dotcom now finds himself at the mercy of the country's judges who to date have been much less flexible than their counterparts in New Zealand when it comes to releasing funds.
Back in May a New Zealand court released millions in funds to pay for Dotcom's legal bills, plus $128K per month in living expenses.
A sizable $60K of that money was earmarked to pay the rent on Dotcom's mansion, which has been reported to cost around $750,000 per annum under a lease signed in February 2013.
However, the terms of the agreement meant that Dotcom would ultimately have to buy the property or move out. It was reported in November that the entrepreneur would be moving to a waterfront penthouse apartment on "fashionable" Princes Wharf instead.
"It's significantly more humble than what I am used to but that's okay," Dotcom said last month. "I am also not living with a partner any more, we have reduced our staff numbers significantly and this place feels a little bit big now."
The hearing in Hong Kong continues.
Update: The Court decided to match the amounts Kim Dotcom had been previously awarded in New Zealand, so he'll get access to NZ$80,000 (HK$406,000 / US$52,400) per month for his living expenses from funds currently restrained in Hong Kong.