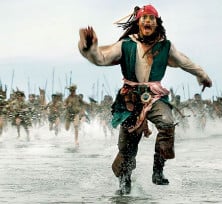 Due to a recent change to Canada's copyright law, ISPs are now required to forward copyright infringement notices to their customers.
As a result, tens of thousands of Internet subscribers have received warnings in their mailboxes over the past days, with some asking for cash settlements.
The so-called notice-and-notice system aims to reduce local piracy rates, but it appears that not all Canadians are ready to give up their habits.
Instead, many file-sharers are taking measures to hide their IP-addresses and bypass the monitoring companies copyright holders have hired. By using VPN services or BitTorrent proxies their sharing activities can no longer be linked to their ISP account, effectively evading the notice system.
Data from Google trends reveals that interest in anonymizing services has spiked with searches for "VPN" nearly doubling in recent weeks. This effect, shown in the graph below, is limited to Canada and likely a direct result of the new law.
"VPN" searches in Canada

The effects are clearly noticeable at VPN providers as well, in both traffic and sales. TorGuard, a VPN and BitTorrent proxy provider saw the number of Canadian visitors and subscribers double this year.
"Since the start of 2015 TorGuard has seen a drastic jump in Canadian traffic and subscribers. At the time of this writing our Canadian sales are up roughly 100% and this trend appears to be increasing," TorGuard's Ben Van der Pelt tells us.
TorGuard traffic from Canada

Another VPN provider that preferred to remain anonymous, confirmed the traffic increase and sent us a graph of a similar spike.
Aside from steering people towards anonymizing tools Canada's notice-and-notice scheme also piqued the interest of the Government. The abuse of these notices in particular.
Another consequence of the new law is that Canadian VPN providers have to warn pirating users as well. For most services this is impossible, as they don't keep any IP-address logs, adding further insecurity to the local market.
For now, none of the VPN providers we spoke with plan to start logging but if they are forced to do so the preference is to move their businesses outside Canada.
From the above it's clear that the new notice-and-notice system is certainly having an impact, but how many file-sharers stop pirating and how many choose to hide instead is anyone's guess at this point.
One thing's for certain though, VPN services are certainly becoming a more mainstream option.