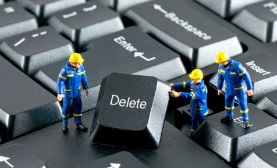 Seattle-based artist Christopher Boffoli is no stranger when it comes to suing tech companies for aiding copyright infringement of his work.
Boffoli has filed lawsuits against Imgur, Twitter, Pinterest, Google, and others, which were dismissed and/or settled out of court under undisclosed terms.
This month he filed a new case against another intermediary, Cloudflare, which has had its fair share of piracy allegations in recent years.
In common with other companies, Cloudflare is accused of contributing to copyright infringements of Boffoli's "Big Appetites" miniatures series. In this case, several Cloudflare customers allegedly posted these photos on their sites which were then reproduced on the servers of the CDN provider.
The lawsuit mentions that the infringing copies were posted on unique-landscape.com and baklol.com. This was also pointed out to Cloudflare by Boffoli, who sent the company DMCA takedown notices in October and November of last year.
While the photographer received an automated response, the photos in question remained online. Through the lawsuit, Boffoli hopes this will change.
"CloudFlare induced, caused, or materially contributed to the Infringing Websites' publication," the complaint reads. "CloudFlare had actual knowledge of the Infringing Content. Boffoli provided notice to CloudFlare in compliance with the DMCA, and CloudFlare failed to disable access to or remove the Infringing Websites."
The photographer is asking the court to order an injunction preventing Cloudflare from making his work available. In addition, the complaint asks for actual and statutory damages for willful copyright infringement. With at least four photos in the lawsuit, the potential damages are more than half a million dollars.
While it's not mentioned in the complaint, the email communication between Boffoli and Cloudflare goes further than just an automated response. Court records show that the photographer initially didn't ask Cloudflare to remove the infringing photos. Instead, he asked the CDN provider to forward them to the ISP or site owner.
"I would be grateful if you would forward this DMCA takedown request to the website owner and ISP so these infringing links can immediately be removed," it read.
Part of the email communication
From then on things escalated a bit. The emails reveal that Boffoli had trouble reporting the infringing photos through the required form.
When the photographer pointed this out in a direct email, Cloudflare urged him to try the form again as that was the only way to send the DMCA request to the designated copyright agent.
"The DMCA doesn't require us to process reports not sent to our registered agent as per our registration with the US Copyright Office. Our registered copyright agent is the form located at cloudflare.com/abuse/form and you may proceed via that avenue," Cloudflare wrote.
If the case moves forward, Cloudflare may use this to argue that it never received a proper DMCA takedown notice. However, Boffoli wasn't planning on trying again and instead threatened a lawsuit, unless Cloudflare took immediate action.
"As I have said, your form did not work for me despite repeated attempts to use it. And it is insulting for you to suggest that it's working fine when it is not. So again, this is absolutely my last attempt to get you to respond to this infringement for which you are impeding the removal," Boffoli wrote.
"If you take no action now I will forward this to my legal team this week. It is more than enough of a burden to have to waste countless hours policing my own copyrights without organizations like Cloudflare running interference for copyright infringers. I am not averse to asking a federal judge to compel you to deal with these copyright infringements. And I will seek statutory damages for contributory infringement at that time."
As it turns out, that was not an idle threat.
—-
A copy of the complaint is available here (pdf) and the email exhibits can be found here (pdf).