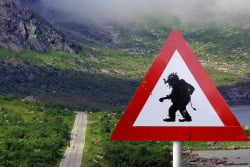 While movie and music companies have regularly filed copyright lawsuits against alleged BitTorrent pirates over the past decade and beyond, the companies operating the machinery behind the scenes are less well known.
One exception was to be found in GuardaLey, an entity that provided tracking data and business structure for numerous lawsuits, notably the massive action targeting alleged pirates of the movies The Hurt Locker and The Expendables.
While these lawsuits and others like them attracted plenty of headlines, GuardaLey itself rarely experienced much scrutiny, at least not to the extent where its complex business dealings were made available to the public.
Earlier this year the waters appeared to be muddied again when 100% of its alleged US-operations were 'acquired' by American Films Inc. which promised to target peer-to-peer networks in order to target "repeat infringers."
Since then, nothing has been heard of American Films Inc, which at the time of the GuardaLey acquisition was described as a "shell company." Now, however, the company appears to have even grander plans after another acquisition, this time of "strategic data company" Maker Data Services LLC.
"This acquisition is important because it adds to the evidence of BitTorrent related copyright infringement that American Films can provide to its clients," says John Carty, American Films' CEO.
"This type of forensic evidence is only available from a few sources, most of which only supply the largest industry associations."
However, it's the next set of claims that are likely to raise the most eyebrows, including a veiled threat to not only take powerful Internet service providers to court, but also VPN companies.
"American Films has positioned itself as the go-to data provider for independent filmmakers that want to take action against the direct infringers, Internet Service Providers, VPN Providers, and others that allow, encourage, and profit from BitTorrent copyright infringement," a company statement reads.
According to various sources, at the time of writing American Films stock is currently changing hands at around $0.04, has one employee, but decides not to supply any financial information by way of accounts.
More information is available on Maker Data Services LLC if one visits its website, but it's not a particularly confidence-inspiring experience, even for a one-year-old company.
"Our company has created a tool that will search the internet. Our tool is able to find any relevant data that could affect the operations of our clients, that is, the businesses we serve," the Maker Data site reads.
"We deal mostly with real estate data and people data to ensure that Real Estate businesses have all the vital information to make sound decisions and drive their businesses forward.
"Our real estate data and analytics services will always give you the actual value of a home before buying for better decision making."
While there might potentially be some synergies between the above and "forensic" anti-piracy activity, the claim elsewhere on the site that the company has "state-the-art software" does not extend to the bug-ridden WordPress installation powering the site.
Every page displays database errors and much of the site consists of 'articles' carrying little more than placeholder posts, graphics and text, presumably put there by the creators of the website.
Along with the acquisition of Maker Data Services comes the appointment of a new CTO for American Films, Craig Campbell, formerly of Fidelity Investments.
His "main focus" will be "managing the build-out of BitTorrent products for copyright enforcement utilizing the combined data resources now available at American Films."
How the business model of American Films will develop is for the future to reveal but the acquisitions announced by the company thus far only raise more questions, not provide more answers. To be brutal, it's only the inclusion of GuardaLey's reputation as a 'copyright troll' within the equation that provokes curiosity.
Litigating successful lawsuits against powerful ISPs or even VPN providers seems not only an incredibly lofty goal, but also an extremely costly and risky proposition. Part of the solution to the latter pair of roadblocks, perhaps, lies in the company's stated aim.
"American Films seeks to create alternative investment participation vehicles that provide necessary funding to appropriate projects while offering reasonable return on investment and mitigation of business risks traditionally encountered in the film industry," the company states.
A for-hire firewall for 'copyright trolling' or the next Rightscorp? Only time will tell but ISPs and VPN providers probably aren't worried too much just yet.