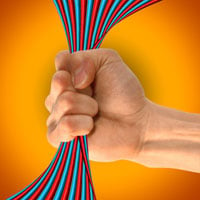 According to many of the world's leading anti-piracy groups, site blocking is one of the most effective tools when it comes to reducing instances of online piracy. It's a technique employed in a growing list of countries around the world, in Europe in particular.
After pioneering work seven years ago (Denmark was one of the first countries to block The Pirate Bay back in 2008), subsequent action by anti-piracy group Rettigheds Alliancen (Rights Alliance) ended in a 2011 ISP blockade of now-defunct music streaming service Grooveshark.
Earlier this year the anti-piracy group took fresh action that resulted in the blocking of 12 large sites including KickassTorrents, RARBG and streaming site Tubeplus. Now Rights Alliance is back again, with its biggest blocking effort yet.
After obtaining an order from the District Court in Frederiksberg yesterday, an additional 20 piracy sites will now be blocked at the ISP level.
Rights Alliance hasn't yet revealed their names but speaking with TorrentFreak the anti-piracy group says that they're the 20 most popular sites among local users and targeting them all at once has two distinct aims.
"By choosing 20 sites in one action it is really just adapting the means available to the internet and its 'swarm activities'. Blocking one site at a time would make but a little disturbance, just redirecting the user request to other likewise illegal sites." Rettigheds Alliancen CEO Maria Fredenslund informs TF.
"Swarm blocking provides a more massive intervention in the user flow, combined with positive communication nudging the users to legal sites, so it's in fact possible to have an impact on user behavior."
While Rights Alliance still needed to obtain a court order to have the latest batch of sites blocked, the process has been streamlined somewhat by a code of conduct signed by ISPs in 2014.
The agreement ensures that when a court issues an injunction against a single ISP ordering it to implement DNS blocking against a 'pirate' site (or in this case a large batch), within days all rival ISPs voluntarily implement similar blockades.
And for Danish users, the blocking won't stop here. Maria Fredenslund says that the effort will continue for as long as the anti-piracy group views it as an effective tool to combat infringement.
"We have seen a 40% decrease in the use of Danish films in the BitTorrent network in the same period when we did the last 'blocking wave'. As with road signs in traffic, blocking signs – when placed and communicated right – can guide users away from illegal platforms," the CEO says.
"Also, as experienced with the Popcorn Time action this week, the police are now also using blocking as an enforcement instrument," Fredenslund concludes.