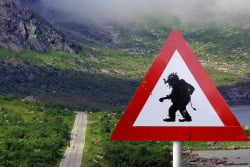 Legal actions against file-sharers come in all shapes and sizes but perhaps the most common are the mass lawsuits that target alleged BitTorrent users.
Hundreds of thousands of these cases, which usually begin with a demand for cash settlement, end when the target pays up an amount to have a supposed lawsuit disappear. More rarely, however, cases end up in court and under the scrutiny of a judge, things don't always go so well.
Like many countries in Europe, alleged file-sharers in Denmark have been receiving letters claiming that since they've been caught sharing porn without the copyright holders' permission, they must now pay an informal fine. The threat for non-payment is a court case but for one company and its beneficiaries involved in a pretty big scheme, this has not gone to plan.
Copyright Management Services (CMS) is known for its involvement in mass copyright litigation. Working with Danish law firm NJORD Law, it previously demanded the identities of thousands of individuals in Sweden so it could pursue them for settlements relating to alleged porn downloads. It is also very active in Denmark.
CMS was incorporated in the UK during October 2014. Until fairly recently its sole director was Patrick Achache, who also operates German-based BitTorrent tracking company MaverickEye. Both were part of the notorious international trolling operation Guardaley, which recently changed ownership.
While actual copyright holders are perfectly able to sue alleged file-sharers, there is a tendency among some mass litigation outfits to use middle-man companies instead. There are theories that their purpose is to act as a buffer to protect the actual copyright holders should lawsuits go wrong but in the cases brought by middle-man CMS in Denmark, its involvement in the chain has caused things to unravel.
The development comes after CMS demanded cash settlements from three individuals who failed to pay and were later taken to court. The defendants were ISP account holders of IP addresses that CMS claimed were connected to illegal file-sharing. In all cases, district courts found in favor of CMS, ordering the defendants to pay 7,500 DKK ($1,039) to the company.
When the cases went to appeal, the defendants denied they committed the copyright infringements alleged by CMS. They further alleged that CMS was not a producer of the content, was not a distributor of content, and had no documentation to prove that it was entitled to sue on behalf of the actual copyright holders.
Countering, CMS referred to its successes in the district courts and insisted that it did indeed have agreements in place to prosecute the cases against the alleged pirates. That assertion was rejected this week by the Eastern High Court.
"In all three cases, the High Court found that the company had not proved that it had legal capacity to conduct the cases in its own name," a statement from the court reads.
As a result, all three cases were dismissed.
"The cases are part of a large number of cases pending before the courts, about the sharing of films, in some cases porn films. The three cases are the first of such cases decided by the Eastern High Court," the statement notes.
Quite how many other cases Copyright Management Services has filed on the same grounds (i.e with no right to sue) is unclear but having these cases thrown out could present problems for the company. In respect of the company itself, interesting facts are available from public sources.
As previously mentioned, Patrick Achache was the sole director of CMS. However, on November 19, 2019, he ceased to be a director and what Companies House describes as a 'person with significant control'. In his place as the new officer with 'significant control' stepped Lubesly Tellidua, who has the same name as a beauty queen from the Philippines.
This could have been a complete coincidence but thanks to detective work by Danish news site K-News, it's possible to confirm that Lubesly Tellidua the beauty queen is not only the new person in control of CMS but is also directly linked to Achache, as the photograph in their article shows.
A new director was also appointed to CMS last year, Eleanor Elizabeth Powell of Brecon, Wales, who chose to register modified names and addresses across two different companies – Copyright Management Services Ltd and Powtex Limited. Adding a middle name and tweaking the details of an address is enough for Companies House not to link the same director to two companies, at least without manual research.
Anyone interested in venturing further down the CMS rabbit hole might consider visiting Open Corporates where several familiar names in copyright trolling and anti-piracy enforcement can be found doing business, past and present.