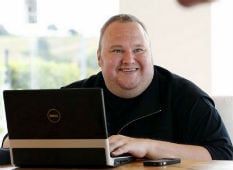 After years of enjoying a lifestyle most people could only dream of, Kim Dotcom's name has become almost synonymous with spending to excess.
There are dozens of photos showing the Megaupload founder on yachts surrounded by exotic beauties and specially commissioned films depicting his passion for high performance cars.
In 2012, however, the brakes were applied somewhat when United States and New Zealand authorities shutdown Megaupload and seized millions in assets. Ever since, Dotcom has periodically requested access to those funds, and has succeeded in obtaining large sums on a number of occasions.
But after reportedly burning through almost all released funds, a "broke and destitute" Dotcom was back in the High Court today seeking the release of yet more cash from the US$9m seized by New Zealand authorities three years ago.
Appearing before Justice Patricia Courtney, Dotcom requested living expenses and a massive cash injection to pay historical and current legal fees. Dotcom was previously granted around US$15,000 per month to live on but the entrepreneur said that the cost of running a family and a mansion had left him "penniless".
And, according to RadioNZ, Dotcom still owes a small fortune to his former legal team who quit last year when the entrepreneur previously ran out of funds. QC Paul Davison, who had fought Dotcom's corner since the 2012 raid, is reportedly owed around US$380,000 while lawfirm Simpson Grierson is owed around US$1.5m.
To cover his living expenses, at least for now, Dotcom today requested the release of US$152,000 per month plus up to US$3m to put towards his legal defense. Needless to say, the Crown has been putting up a fight, but in common with all things Dotcom, there are other complexities to consider.
Last year Dotcom and his wife Mona separated in a wave of publicity, with the latter allegedly fleeing their shared mansion on a golf cart in the middle of the night. Since her 'escape' the former model has appeared in several magazine articles in which she provided insight into her life with Kim. The latest, which reported her new love life and a $60,000 Mercedes gift to a "toyboy lover", inspired Dotcom to take to Twitter.
"I helped & hired a 17yr old troubled kid to play Xbox with Mona's brothers. 1 year ago he decided to play with Mona," Kim wrote.
On February 20, the apparent problems continued, with Dotcom reporting that Mona had applied to the High Court asking that it should "decline Mr Dotcom's application… to release frozen assets for his legal defense.'
Mona Dotcom's position is an interesting one. Even though she's not part of the U.S. copyright case against her estranged husband and reportedly not part of Kim's life anymore, she is the controller of the family trust and the millions it contains.
Mona withdrew her opposition to Kim's application today which prompted Crown lawyer David Boldt to suggest that Mona could release funds from the trust to her husband. However, the fact that the couple are in a "separation battle" over their shared assets was quickly pointed out by a reportedly "amused" Kim Dotcom.
Turning to Dotcom's current home, the now-famous Coatesville mansion, Boldt asked Kim Dotcom if moving to something more frugal might be an option.
"Have you thought about moving into a house that doesn't cost you $1m a year?" he said.
"Which landlord is going to rent to me? I don't have even a bank account," Dotcom replied.
Noting that he didn't want to uproot his children and that the family had spent $6.8m improving the place, Dotcom conceded that if his financial situation didn't improve, he may have to relocate.
A decision will be handed down shortly.