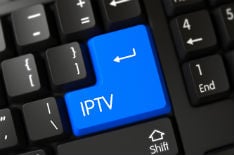 As reported by TF back in March, DISH Network filed a huge lawsuit against pirate IPTV provider ChitramTV.
The complaint also named Dinesh Vigneswaran, the alleged owner of ChitramTV Canada, who allegedly does business from the Chitram.ca website. DISH claimed that ChitramTV obtained its broadcasts and streams, transferred them to its own servers, and then rebroadcasted them to subscribers of the Chitram service.
ChitramTV was accused of distributing, selling and promoting 'Chitram' set-top boxes and subscription packages containing more than 500 live TV channels and 10,000 movies, both directly to users and through a network of resellers, including Vigneswaran.
In an effort to shut the service down, DISH said it sent at least 134 copyright infringement notices to Chitram between July 2014 and November 2015. In December 2015, Chitram reportedly "temporarily ceased" transmitting DISH content but by December 2017, it was back online.
All direct complaints were ignored so DISH sent copyright notices to the service's CDN providers too but according to the broadcaster, Chitram simply moved its business elsewhere.
Demands for Massive Statutory Damages
In its complaint, DISH demanded $150,000 in statutory damages for more than 200 registered works – around $31 million in total damages. The broadcaster also sought to take over the service's domains as part of a broad injunction. The case would not be straightforward, however.
While DISH had managed to identify Dinesh Vigneswaran from the beginning, finding out the identities and physical locations of those actually behind the main ChitramTV service (Does 1-10) proved impossible. Ultimately, the court allowed DISH to serve a summons to the names ChitramTV and Chitram.tv via two email addresses, one linked to a Chitram domain and another registered to Google. DISH later filed motions for default judgment against Vigneswaran and Does 1-10.
DISH Wins $31m Judgment
This week District Judge Lynn N. Hughes handed down a default judgment in the case noting that after being served on August 20, 2021, the unknown individuals behind ChitramTV had not answered or otherwise appeared.
"DISH Network, L.L.C., will take $31,050,000 from ChitramTV, plus 0.15% post-judgment interest. This reflects the statutory damages of $150,000 for ChitramTV's willful infringement of 207 of DISH's registered copyrighted works," the Judge wrote.
While the $31m win makes for good headlines, the question of whether DISH will ever recover a penny remains unanswered for now. However, the Judge also issued a broad injunction that should make it much more difficult for ChitramTV to operate and sell its services in the United States.
Broad Injunction
In response to DISH's requests, Judge Hughes' order requires ChitramTV to stop distributing the broadcaster's channels (or the works airing on those channels) in the United States. ChitranTV is also enjoined from distributing, selling, or promoting set-top boxes, subscriptions or services that provide access to DISH content. Importantly, the same also applies to its resellers, meaning that if anyone pops their head above the parapet on ChitramTV's behalf, DISH is likely to be right there.
The injunction also covers third-party service providers that have (or may in the future) allow ChitramTV to operate in the United States.
Several are named – Private Layer, IP Volume, Cooperative Investments, Owl Protect, Virtual Systems, Alkar0AS and FDCServers – but the list can be expanded to encompass other providers too. None are allowed to assist ChitramTV to distribute DISH content in the United States and are required to comply within 48 hours of receiving the order.
The injunction also covers registries and registrars that currently (or may in future) control ChitramTV-related domains including but not limited to Thulsi.tv, Chitram.tv, Chitram.ca, Oranthservice.site, and Newmembership.net. The .TV Corporation, Verisign, Canadian Internet Registration Authority and Radix FZC (and any future entities) are required to disable and then transfer to DISH any infringing domains. They too have 48 hours to comply with the order.
IBCAP Welcomes The Judgment
The International Broadcaster Coalition Against Piracy (IBCAP), of which DISH is a member, welcomes the decision as it will allow them to shut ChitramTV down and target any resellers that may appear.
"We are very pleased with this legal victory as it will enable us and our members to shut down one of the most popular South Asian pirate services operating in the U.S. The injunctions imposed, along with the transfer of current and future domains associated with ChitramTV, will have a devastating effect on ChitramTV and any dealer selling ChitramTV," said Chris Kuelling, executive director of IBCAP.
"A dealer that continues to sell ChitramTV after receiving notice of the injunction will be in contempt of the Court's order and liable for further damages. Dealers should be aware that it's not worth risking their business by selling pirate IPTV services."
While the judgement stands, immediately after it was issued Judge Hughes withdrew the entry of default against Dinesh Vigneswaran, the only individual to be personally identified by DISH. The reason is that Vigneswaran did indeed answer the complaint and according to our monitoring of the case, that actually happened in late October. This means that the case is not over just yet.
Vigneswaran Answers Complaint
In a letter accompanying his answer, Vigneswaran says that a summons dated March was dropped off at the porch of his home in May, with another document following up in October. He says that the original documents confused him, in part because the envelope was unmarked, had no stamp, and was sent from the United States.
"It has become common these days that you get calls and mails trying to victimize for fraudulent scam. So I thought this is some false letter and I ignored it. Moreover I didn't have the time to think or investigate on this [sic]," he told the court.
Vigneswaran went on to explain that he used to work as head of sales for Lycatel's Lyca TV and during that tenure was approached by someone to promote Chitram TV. At the time he refused but after Lyca lost a few of its channels and customers began asking for refunds, he felt a responsibility to compensate family and friends who had bought the service from him.
What followed was a relationship with ChitramTV, ostensibly to provide a compensatory service to aggrieved customers. Vigneswaran denied that the mentioned websites were ever owned or maintained by him and insisted that he wasn't an owner of ChitramTV.
"I was forced in this situation because I wanted to safe guard my name and reputation from family and friends and move along for the betterment of my family," he concluded.
Whether any of this will have a bearing on his fate remains to be seen but by filing an answer and having his reasons for not doing so sooner accepted by the judge, he remains in play. That was confirmed in an email from IBCAP to TorrentFreak stating it is their understanding that the case against Vigneswaran will proceed.
A conference has been scheduled for February 3, 2022.
The answer, letter, judgment and withdrawal order can be found here (1,2,3,4, pdf)