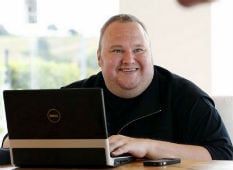 During the raid more than two years ago on his now-famous mansion, police in New Zealand seized 135 computers and drives belonging to Kim Dotcom.
In May 2012 during a hearing at Auckland's High Court, lawyer Paul Davison QC demanded access to the data stored on the confiscated equipment, arguing that without it Dotcom could not mount a proper defense.
The FBI objected to the request due to some of the data being encrypted. However, Dotcom refused to hand over the decryption passwords unless the court guaranteed him access to the data. At this point it was revealed that despite assurances from the court to the contrary, New Zealand police had already sent copies of the data to U.S. authorities.
In May 2014, Davison was back in court arguing that New Zealand police should release copies of the data from the seized computers and drives, reiterating the claim that without the information Dotcom could not get a fair trial. The High Court previously ruled that the Megaupload founder could have copies, on the condition he handed over the encryption keys.
But while Dotcom subsequently agreed to hand over the passwords, that was on the condition that New Zealand police would not hand them over to U.S. authorities. Dotcom also said he couldn't remember the passwords after all but may be able to do so if he gained access to prompt files contained on the drives.
The police agreed to give Dotcom access to the prompts but with the quid pro quo that the revealed passwords could be passed onto the United States, contrary to Dotcom's wishes.
Today Justice Winkelmann ruled that if the police do indeed obtain the codes, they must not hand them over to the FBI. Reason being, the copies of the computers and drives should never have been sent to the United States in the first place.
While the ruling is a plus for Dotcom, the entrepreneur today expressed suspicion over whether the FBI even need the encryption codes.
"NZ Police is not allowed to provide my encryption password to the FBI," he wrote on Twitter, adding, "As if they don't have it already."