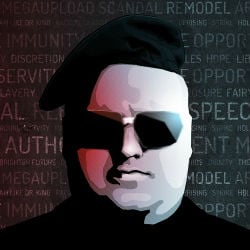 In June 2012 the police search and seizure raids against Kim Dotcom and other alleged members of the so-called 'Mega Conspiracy' were deemed to have been carried out illegally.
Two months later in August it came to light that a Kiwi spy agency, the Government Communications Security Bureau, had been spying on both Kim Dotcom and co-defendant Bram Van der Kolk. GCSB is not allowed to spy on New Zealand residents and was later forced to concede that it had unlawfully intercepted communications.
In December 2012 Justice Helen Winklemann ordered GCSB to be joined as a defendant to
Dotcom's lawsuit against New Zealand's Attorney-General over the illegal January raid and ordered GCSB to reveal details of their secret surveillance.
This High Court ruling was subsequently challenged by the Attorney-General and this morning the result of the appeal was made public. It's a mixed bag, but with Dotcom and friends coming out on top.
The Court of Appeal said that although it is not usually appropriate for judicial reviews to include compensation claims, it would rubber stamp the request for GCSB to be added to the case. This means that Dotcom will be able to pursue compensation claims against the state during an upcoming hearing in April.
Going some way to balancing the success on both sides, the Court handed a win to the Attorney-General in respect of the earlier discovery ruling.
Previously the High Court said that GCSB must hand over all of the documents related to the secret surveillance operation carried out against Kim Dotcom and co-defendant Bram Van der Kolk. But the Court of Appeal ruled that discovery will now only stretch as far as revealing that information exists and where it was sent. Access to the actual content of the documents will not be permitted.
"We look forward to holding GCSB spy org accountable," said Dotcom's lawyer Ira Rothken this morning. "Doing so will not only protect @KimDotcom's rights but the rights of all NZ residents."
Following the Court of Appeal ruling, Kim Dotcom pondered whether the Kiwi government will continue to press the case against him.
"How much longer will the New Zealand government hurt its reputation on a global scale by supporting a malicious U.S. contract prosecution?" he said.
In closing the Court of Appeal urged all parties to "co-operate to ensure that the pleadings are brought into proper order and that the issues before the High Court are determined as expeditiously as possible," but considering the complexity of the case, that won't be anytime soon.