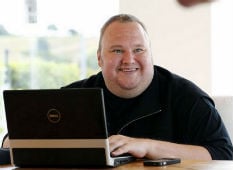 With former US president Barack Obama in New Zealand until Friday, the visit provided a golden opportunity for Kim Dotcom to pile on yet more pressure over the strained prosecution of both him and his defunct cloud storage site, Megaupload.
In a statement issued yesterday, Dotcom reiterated his claims that attempts to have him extradited to the United States have no basis in law, chiefly due to the fact that the online dissemination of copyright-protected works by Megaupload's users is not an extradition offense in New Zealand.
Mainly, however, Dotcom shone yet more light on what he perceives to be the dark politics behind the case, arguing that the Obama administration was under pressure from Hollywood to do something about copyright enforcement or risk losing funding. He says they pulled out all the stops and trampled his rights to prevent that from happening.
In a lengthy affidavit, filed this week to coincide with Obama's visit, Dotcom called on the High Court to compel the former president to give evidence in the entrepreneur's retaliatory multi-billion dollar damages claim against the Kiwi government.
This morning, however, Chief High Court Judge, Justice Geoffrey Venning, quickly shut that effort down.
With Obama enjoying a round of golf alongside former Prime Minister and Dotcom nemesis John Key, Justice Venning declined the request to compel Obama to give evidence, whether in New Zealand during the current visit or via letter of request to judicial authorities in the United States.
In his decision, Justice Venning notes that Dotcom's applications were filed late on March 19 and the matter was only handed to him yesterday. As a result, he convened a telephone conference this morning to "deal with the application as a matter of urgency."
Dotcom's legal team argued that in the absence of a Court order it's unlikely that Obama would give evidence. Equally, given that no date has yet been set for Dotcom's damages hearing, it will "not be practicable" to serve Obama at a later point in the United States.
Furthermore, absent an order compelling his attendance, Obama would be unlikely to be called as a witness, despite him being the most competent potential witness currently present in New Zealand.
Dotcom counsel Ron Mansfield accepted that there would be practical limitations on what could be achieved between March 21 and March 23 while Obama is in New Zealand. However, he asked that an order be granted so that it could be served while Obama is in the country, even if the examination took place at a later date.
The Judge wasn't convinced.
"Despite Mr Mansfield's concession, I consider the application is still premature. The current civil proceedings were only filed on 22 December 2017. The defendants have applied for an order deferring the filing of a statement of defense pending the determination of the hearing of two appeals currently before the Court of Appeal. That application is yet to be determined," Justice Venning's decision reads.
The Judge also questions whether evidence Obama could give would be relevant.
He notes that Dotcom's evidence is based on the fact that Hollywood was a major benefactor of the Democratic Party in the United States and that, in his opinion, the action against Megaupload and him "met the United States' need to appease the Hollywood lobby" and "that the United States and New Zealand's interests were perfectly aligned."
However, Dotcom's transcripts of his conversations with a lobbyist, which appeared to indicate Obama's dissatisfaction with the Megaupload prosecution, are dismissed as "hearsay evidence". Documentation of a private lunch with Obama and the head of the MPAA is also played down.
"Mr Dotcom's opinion that Mr Obama's evidence will be relevant to the present claims appears at best speculative," the Judge notes.
But even if the evidence had been stronger, Justice Venning says that Obama would need to be given time to prepare for an examination, given that it would relate to matters that occurred several years ago.
"He would need to review relevant documents and materials from the time in preparation for any examination. That confirms the current application is premature," the Judge writes.
In support, it is noted that Dotcom knew as early as February 21 that Obama's visit would be taking place this week, yet his application was filed just days ago.
With that, the Judge dismissed the application, allowing Obama to play golf in peace. Well, relative peace at least. Dotcom isn't done yet.
"I am disappointed of course because I believe my affidavit contains compelling evidence of the link between the Obama administration, Hollywood, and my extradition proceeding. However, after seven years of this, I am used to fighting to get to the truth and will keep fighting. Next round!" Dotcom said in response.
"The judgment is no surprise and we'll get the opportunity to question Obama sooner or later," he added.
As a further indication of the international nature of Dotcom's case, the Megaupload founder also reminded people of his former connections to Hong Kong, noting that people in power there are keeping an eye on his case.
"The Chinese Government is watching my case with interest. Expect some bold action in the Hong Kong Courts soon. Never again shall an accusation from the US DOJ be enough to destroy a Hong Kong business. That lesson will soon be learned," he said.