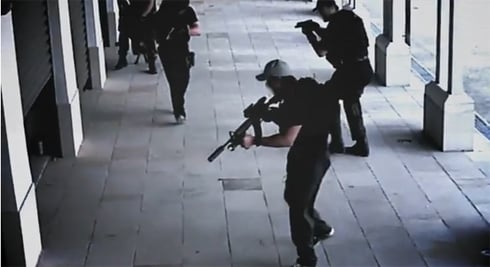 Six years ago, New Zealand police carried out a spectacular military-style raid against individuals accused only of copyright infringement.
Acting on allegations from the United States government and its Hollywood partners, New Zealand's elite counter-terrorist force raided the mansion of Kim Dotcom, who was detained along with his wife and children.
Megaupload's founder has always maintained that his arrest was unlawful under New Zealand law, and he is determined to hold the authorities accountable.
In addition to getting married and celebrating his birthday this weekend, the German born entrepreneur announced that he is seeking damages from the New Zealand Government.
"Today, 6 years ago, the NZ Govt enabled the unlawful destruction of Megaupload and seizure of my global assets," Dotcom wrote on Twitter.
"I was arrested for the alleged online piracy of my users. Not even a crime in NZ. My lawyers have served a multi billion dollar damages claim against the Govt today," he added.
Dotcom's lawyer Ira Rothken informs TorrentFreak that a damages claim was filed at the New Zealand High Court last December.
"We confirm that our legal team filed a Statement of Claim in the New Zealand High Court for monetary damages on December 22, 2017 on behalf of Kim Dotcom against the United States and NZ governmental entities alleging that defendants pursued with malice and material non disclosure an erroneous arrest warrant," Rothken says.
In the claim, Dotcom's legal team argues that the arrest warrant was invalid. They say that there were no reasonable grounds on which the District Court could conclude that Dotcom's alleged crimes were an extraditable offense.
The consequences, however, were rather severe. Dotcom lost his freedom and also his company, which was worth billions and preparing for an IPO, according to the legal paperwork.
"At the time the Restraint Orders were granted, second plaintiff was preparing to list on the Stock Exchange of Hong Kong at a conservative valuation of not less than US$2.6 billion," the claim reads.
This valuation is based on a valuation of $40 for each of the 66 million users Megaupload had, which generated $45 million in profits per year. If Megaupload had not have been raided, today's value could be as high as $10 billion.
Mega value
Dotcom has a 68 percent stake in the Megaupload companies and seeks damages that will compensate for lost profits. In addition, he requests compensation for legal costs, lost business opportunities, loss of reputation, and other losses.
The exact scale of the damages isn't specified and will have to be determined at a later stage, before trial.
The claim doesn't come as a surprise to the New Zealand Government, Prime Minister Jacinda Ardern said in a brief response.
"This has obviously been an ongoing matter, so no it doesn't surprise me," she commented.
—
A copy of the full claim is available here (pdf).