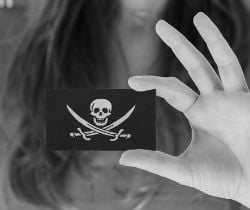 As chairman of The Institute for Development of the Internet, Herman Klimenko already had a prominent role in Internet related affairs. But when Russian president Vladimir Putin eyed the 49-year-old to become his personal adviser on the Internet, Klimenko really struck gold.
Last week Putin signed a decree that officially enlisted Klimenko and it didn't take long for him to address the issue of Internet piracy. However, instead of tough talk, Klimenko criticized web-blocking and suggested that copyright holders should wait for a better economic situation before "terrorizing" on the issue of piracy.
"Consumption of copyright content increases with economic growth, and when the situation is very serious, I think people do not have to unnecessarily terrorize these issues," Putin's adviser said.
"Pushing hard now on this topic, I think, is not worth it. When the economy improves, you should return to this issue."
While Klimenko's comments at least in part sound reasonable, copyright holders would've been disappointed by his lack of support. What they will be even more disappointed over is the allegations now surfacing about Klimenko's links to online piracy.
Sources close to Russia's Vedomosti have informed the publication that Klimenko is the owner of Torrnado.ru, a locally operated torrent site. As can be seen from the image below the site has a familiar feel and unless hell has frozen over the studios behind Mission Impossible: Rogue Nation and Terminator Genesis aren't in agreement with their content appearing for free.
So how does someone like Klimenko end up with a torrent site under his belt? Well, it's not being claimed that he's the admin or sysop at Torrnado (that would be quite remarkable), but it appears that the site is indeed operated by a company owned by the Internet expert.
To begin, it helps to take a look at Torrnado's WHOIS listing. We can see from the image below that the domain is owned by a company called ECO PC Solutions.
Checking out that company using company database SPARK Interfax reveals that the owner of ECO PC Solutions is Alevtina Jacobson. In December, ECO PC Integrated Solutions (with Jacobson at the helm) was announced as the operator of a brand new TV channel for MediaMetrics.ru, a service which measures Internet traffic to news stories from social media.
Completing the circle, MediaMetrics is owned by Herman Klimenko and he admits that Alevtina Jacobson was his employee.
Somewhat bizarrely, last evening Klimenko took to his Facebook page to comment on the reports that he's the proud owner of a torrent site.
"An amazing story with torrents. On their own they are nothing illegal," he wrote.
"You only need to cooperate with the creators and help them to fight for their rights.
Those who are not helping [rightsholders] are being punished. Those who are helping, are not being punished."
A little later Klimenko posted again, listing various criticisms that have been made of him during his short time in power.
"Well of course the list of my sins is impressive," he wrote.
"I'm shutting down [messaging app] Telegram. I'm building a Chinese-style Internet in Russia. I support the pirates. And i'm doing this all alone and at the same time."
While Torrnado is hardly Russia's most popular 'pirate' site (currently ranked 2,334 in the country by Alexa), the fact that it's operated by a company owned by Klimenko is hardly something expected of a man in his position. Indeed, the law forbids those in "state service" to run a business, hence an announcement yesterday that his son Yuri would be taking control of some of his interests.
Whether the torrent revelations will affect Klimenko's position as Putin's adviser will remain to be seen but at the very least and at long last, someone in a position of authority actually understands how a torrent site works.