The EU Intellectual Property Office has published its latest Intellectual Property and Youth Scoreboard Study.
Its stated aim is to better understand which drivers and barriers are the strongest among 15 to 24-year-olds when obtaining digital content online or purchasing physical goods, both legally and illegally.
In line with the previous study published in 2016, music remains the most popular content among young people. An impressive 97% stream or download music, 94% download or stream movies and series, with games following behind with 92%. Roughly eight out of ten access educational content (82%) with a similar number accessing other TV shows or sport (79%).
Of course, not all of these consumers access content legally. The study found that around a third use unlicensed sources but that's down five percentage points on the findings from a similar study in 2016.
However, that 33% is split – 21% said they intentionally pirated while 12% said their illicit consumption was unintentional.
"Young people who use illegal sources intentionally to access digital content do so primarily to access films and series," the study reveals.
"There has been a notable decrease in those using illegal sources to access music —whereas almost all young people download or stream music online, only 39% of those intentionally using illegal sources do so to access music — a decline of 17 percentage points since 2016."
The motivations for deliberately using illegal sources aren't new. More than half (56%) cite price as a factor (10 points down from 2016) but just under a third (30%) say they frequent illicit platforms due to content not being available legally or based on the perception that pirate sites offer a larger choice (26%). But at least some users of these platforms can be deterred.
"There are almost always reasons that would stop young people from using illegal sources to access digital content. Primarily these relate to having a more affordable offer (55%), followed by a risk of punishment (35 %), and a bad personal experience (29%)," the report adds.
The EU study also highlights that in respect of illegal content consumed intentionally, there is a "limited correlation" with more general consumption of digital products. While a majority of all respondents consume films, TV shows, sport, games, eBooks and similar content, intentional pirates tend to focus on streaming or downloading movies and series.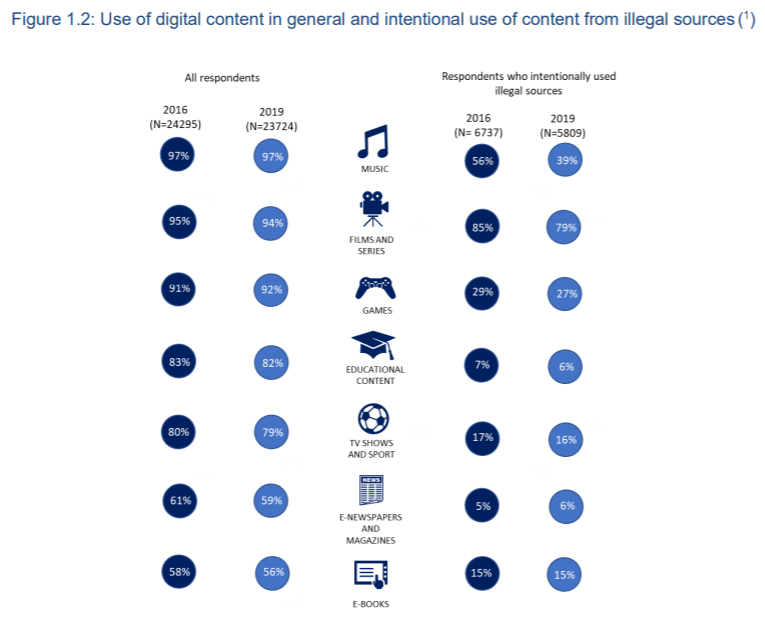 "More generally, it is rare for young people to rely exclusively on illegal sources — 80 % of the sample use legal sources to access digital content," the report notes, adding that 51% have not "used, played, downloaded or streamed content from illegal sources in the last 12 months."
The full report can be downloaded here (pdf)