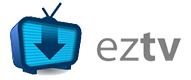 Earlier this year EZTV ran into trouble with the Italian domain name registry NIC.it over some paperwork.
Facing a looming confiscation of the EZTV.it domain name, they saw no other option than to switch to a new home. Since then the site has been serving its torrents from the EZTV.ch domain.
Perhaps out of habit or because they don't know any better, many users still visit the EZTV.it domain. For a few weeks the .IT domain was banned by the registry so visitors eventually had to find EZTV's new home.
This week the position changed. Starting a few days ago the .IT domain became accessible again, showing what appears to be the real EZTV website. However, this surprise comeback is far from official.
TorrentFreak has learned that a domain squatter took over the popular name after the registry surprisingly listed it for sale again. In the domain whois EZTV's "EZCLOUD LIMITED" is listed as the registrant, but EZTV's Novaking told TF that they are not in control of the domain.
"Scammers got it a while ago," Novaking tells TF. "Oddly this happened through a domain snapback company in Italy."
What makes the situation particularly problematic is that the official ETZV domain has been suffering downtime for more than a week. This means that the .IT domain is being visited even more than before, especially because it even lists recent torrents.
While there are no signs of malicious practices yet, some users noted worrying problems with the "compromised" .IT domain. For example, the login doesn't work and people are randomly logged into other people's accounts. As a result, strangers can read people's private messages and access their personalized show lists.
Many users have spotted the problems and report their experiences in the forums on the compromised site.
"Identity crisis here too. I'm ganen89, pedralbes, KathyCuty and some other random people. When i go to 'list my shows' it is a totally different list of series. On the 'Show watched' [there's a] totally different list," one user reports.
For now it's unclear how this can occur. It's unlikely that the database has been hacked as the .IT domain still points to a server owned by the real EZTV. In any case, users are being warned to avoid the compromised domain at all costs.
The official EZTV team is still working on resolving the problems at their end and hope to have the official site running smoothly again in the near future.