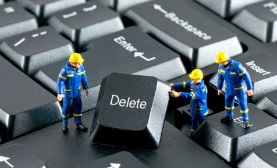 Seattle-based artist Christopher Boffoli is no stranger when it comes to suing tech companies for aiding copyright infringement of his work.
Over the years he has filed lawsuits against Cloudflare, Twitter, Google, Pinterest, Imgur, and others. All these cases were eventually dismissed, presumably after both sides resolved the matter behind the scenes.
While no settlement details have been made public, it's likely that the photographer has been getting something in return, as he filed a similar case this week. The latest target is yet another familiar Silicon Valley name: Facebook.
In a brief complaint filed at the District Court for the Western District of Washington, Boffoli accuses the social media platform of failing to remove copyright infringing photos. This, despite the claim that the photographer reported dozens of links to unauthorized copies of his work on Facebook between August and October of last year.
Facebook initially replied to these notices stating that the content had been removed, but that wasn't the case. After more than three months, the pirated photos were still online, the complaint says.
"As late as January 9, 2020 — more than 100 days after receiving Boffoli's first notice — Facebook had not removed or disabled access to the Infringing Content," Boffoli's attorney writes.
After the attorney alerted Facebook about the problem, the material was eventually removed last month. Apparently, it remained online all this time due to a technical error.
"On or about January 30, 2020, Facebook removed or disabled access to the Infringing Content only after communication from Boffoli's attorney. Facebook admitted it failed to previously remove the material despite notice and stated that its failure to do so was due to a technical error," the complaint explains.
By then it was already too late, however. Instead of accepting the error, Boffoli has now taken the matter to court where he demands actual or statutory damages for the copyright infringements. With at least four photos in the lawsuit, the potential damages are more than half a million dollars.
In addition, the photographer requests an injunction to prevent future copyright infringements and wants Facebook to destroy all copies that it has in its possession.
The timing of the notices is interesting as it coincides with another incident involving the photographer. Last September we reported that Facebook had removed one of our articles, which used a meme based on a public domain image of Boffoli.
The meme in question referenced the backlash after the photographer filed a lawsuit against Imgur in 2014. When that case was made public, someone responded by uploading 20,754 of his photos to The Pirate Bay. Ironically, Facebook did remove the image and the link to our article years later, even though it was clearly fair use.
That incident shows that Facebook did respond to takedown notices. According to the new lawsuit, however, that wasn't always the case.
—-
A copy of the complaint is available here (pdf) and the email exhibits can be found here (pdf).