Google's popularity means that it is one of the first places users turn to when they're trying to find content online. That also includes unauthorized content, and as a result Google receives endless notices from copyright holders to remove infringing URLs from its listings.
Even as a content-less search engine, Google is held responsible for everyone else's infringing behavior, but they're not on their own. Specialist search engines that focus on indexing content on other sites are also subjected to takedowns, but in the last couple of years the trend has been to hit Google's index of those sites' links too.
One such site is FilesTube, a search engine dedicated to indexing content found on the biggest file-hosting sites with public sharing capabilities such as Rapidgator, 4Shared and Uploaded. These sites host large quantities of unauthorized content uploaded by their users, so FilesTube has become popular with those looking for TV shows, movies, music, apps and just about any other content one can imagine.
FilesTube, a site founded back in 2007, reportedly responds to DMCA notices, but Google nevertheless gets hammered with requests from copyright holders to de-list FilesTube URLs.
"During the last year Google disabled access to 389,512 FilesTube links," we wrote in May 2012 when FilesTube first topped the takedown charts. The situation today has developed out of all proportion.
This week, Google received its 10 millionth takedown notice for FilesTube, the vast majority of them received in the last calender year. During the past four months there hasn't been a week with fewer than 130,000 takedowns and at times as many as 460,000 were issued.
The total of 10,074,633 URLs dwarfs its nearest 'rival' ZippyShare which takes the current second place spot with 'only' 5,914,229 URLs.
As can be see from the image above, FilesTube's number one 'enemy' is the music industry. The BPI and RIAA have together de-indexed close to six million of the search engine's URLs. In third, fourth and fifth position are Fox (TV/movies), anti-piracy group MarkMonitor (various industries), and Takedown Piracy (adult content).
Overall, 3,838 copyright holders and 1,270 reporting organizations have issued notices to Google about FilesTube, something which has put the site at odds with the entertainment industry.
In June 2011, FilesTube took on a new domain after it was blocked by ISPs in Malaysia on copyright grounds. By the end of October 2013, FilesTube was also censored in the UK after the music industry obtained a High Court injunction against six of the country's top ISPs.
In the past few weeks FilesTube took the decision to dump its .com domain. The site can now be found on the more anonymous FilesTube.to. No reason was given for the switch but whereas the site was previously blocked in the UK, it is now available again through ISPs including Virgin Media.
There are also some other interesting developments underway. FilesTube has long insisted that it's a search engine just like Google, in that it carries none of its own content and responds to takedown notices. FilesTube has been happy in the past to allow searches for specific file types (AVI, MP3, MKV etc) and lists popular user-generated searches on its main page, but really hasn't gone any further. Until now….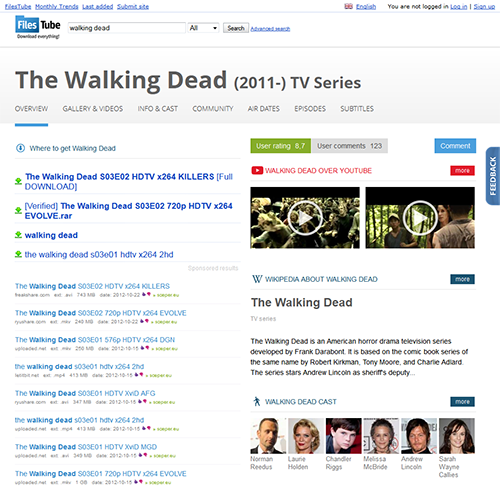 The above image is part of a survey being carried out by FilesTube (link at top of the main page) in which they ask the user "Imagine that you're searching for your favorite TV series on FilesTube. Will the detailed search results page be useful for you?" The suggestion is that a page like this, giving details of TV shows alongside links to pirated content, could be implemented if users want it.
Of course, this goes way beyond the actions of a search engine "like Google" but with FilesTube being treated harshly by copyright holders anyway, one has to wonder whether the company has now given up trying to please them.