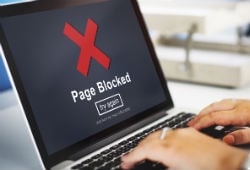 When the Australian government introduced new legislation to allow 'pirate' sites to be blocked Down Under, there was never any question that the law would go underused.
December last year following a lawsuit brought by Roadshow Films, Foxtel, Disney, Paramount, Columbia, and 20th Century Fox, the Federal Court ordered ISPs to block The Pirate Bay, Torrentz, TorrentHound, IsoHunt and streaming service SolarMovie.
This February the same rightsholders were back again, this time with even more targets in mind including ExtraTorrent, RarBG, Demonoid, LimeTorrents, YTS and EZTV, plus streaming portals 123Movies, CouchTuner, Icefilms, Movie4K, PrimeWire, Viooz, Putlocker and many more.
With blocking efforts gathering momentum, the fifth case seeking injunctions against pirate sites has just hit Australia's Federal Court. It's the second to be filed by Foxtel and again targets streaming sites including Yes Movies, Los Movies, Watch Series and Project Free TV.
In common with earlier cases, ISPs named in the latest application include TPG, Telstra, Optus and Vocus/M2. Once various subsidiaries are included, blocking becomes widespread across Australia, often encompassing dozens of smaller providers.
Speaking with ABC, a Foxtel spokesperson said the company has confidence that the Federal Court will ultimately order the sites to be blocked.
"Foxtel believes that the new site blocking regime is an effective measure in the fight to prevent international operators illegitimately profiting from the creative endeavours of others," he said.
Indeed, the earlier cases brought by both the studios and record companies have pioneered a streamlined process that can be tackled relatively easily by rightsholders and presented to the court in a non-confrontational and easily understood format.
ISPs are not proving too much of a hindrance either, now that the issue of costs appears to be behind them. In Foxtel's earlier case involving The Pirate Bay, the judge said that ISPs must be paid AUS$50 per domain blocked. That now appears to be the standard.
So what we have here is a quickly maturing process that has already developed into somewhat of a cookie-cutter site-blocking mechanism.
Applications are made against a particular batch of sites and after the court assesses the evidence, an injunction is handed down. If further similar and related sites (such as proxies and mirrors) need to be blocked, those are dealt with in a separate and simplified process.
That was highlighted last week when an application by Universal Music, Warner Music, Sony Music and J Albert & Son, resulted in a range of KickassTorrents spin-off sites being approved for blocking by the Federal Court. The ISPs in question, 20 in total, have been given two weeks to block the sites.
Whether this will have the desired effect will remain to be seen. Australians are well-versed in unblocking solutions such as VPNs. Ironically, most learned of their existence when trying to gain access to legal services such as Netflix, that were available overseas for years before hitting Aussie shores.
Since that has now been remedied with a local launch, rightsholders and companies such as Foxtel are hoping that pirate services will be less attractive options.
"We trust that Australians recognize that there are increasing numbers of ways to access content in a timely manner and at reasonable prices. [This] ensures that revenue goes back to the people who create and invest in original ideas," a Foxtel spokesperson said.
If the United Kingdom is any template (and all signs suggest that it is), expect hundreds of similar 'pirate' sites to be blocked in Australia in the coming months.