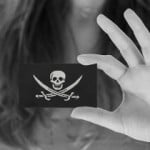 Across Europe countries are continuing their struggle with online piracy but France was the first brave enough to introduce a system of warning file-sharers.
The so-called Hadopi law received widespread coverage, with praise and criticism arriving from many corners, but the big question of whether the process has been effective has never been definitively answered.
Whatever the program's achievements, if any, the French are still looking to reduce online copyright infringement in an attempt to boost the creative sector. Now the government has announced the next wave in its continuing anti-piracy drive.
Fleur Pellerin, France's Minister of Culture and Communication, has now presented a paper to the Council of Ministers outlining a plan of action against all sites involved in online piracy. The range will be broad, to include sites that not only stream or offer copyrighted material for download, but also those that "take advantage" of pirate content in other ways.
The first part of the program is a familiar one. In common with the United States and the United Kingdom (1,2)where similar programs have been in place for some time, France will seek to deprive piracy related websites of their revenue streams with a particular focus on those that utilize advertising.
On March 23 at the Ministry of Culture and Communication, advertisers and advertising agencies will come together with representatives from rightsholder bodies to sign an anti-piracy charter. The agreement will formalize a commitment to keep advertising off platforms deemed to benefit from online piracy.
The next phase also mirrors developments elsewhere, particularly in the United States under pressure from government. Being able to process payments is crucial for some online file-sharing sites, particularly those in the file-hosting sector that rely on subscriptions to stay afloat. Moves already taken by Visa, MasterCard and PayPal are already underway elsewhere and negotiations in France will now commence with a view to the signing of an agreement in June 2015.
Continuing on the financial front the French Government says it will mobilize to fight against those benefiting from illegal channels of revenue and will consider "all the tax consequences of these activities."
Site blocking is another anti-piracy method utilized extensively elsewhere and it's clear that the French wish to follow the same path. Blocks against a handful of sites already exist but the Minister of Culture says that enhanced judicial efficiency and a system to monitor the effectiveness of these and other measures will be introduced.
Effectively rightsholders will still have to go to court to get sites blocked, but unlike the UK where they are relatively free to keep adding sites to blocklists as and when they see fit, in France they will still have to go back to court for enhanced blocking, if a site moves domain or introduces proxies for example.
Also on the cards is a sharpening of coordination between departments responsible for dealing with online piracy. To this end the Ministry of the Interior will assume responsibility for the direction of the fight against cybercrime.
Finally, the government will look at the role that sites like YouTube play in the distribution of unauthorized content. Sites will be expected to streamline their processes in ways that make it easier for rightsholders to monitor and remove unauthorized material.
Whether these measures will prove to be a boost to the entertainment sector remains to be seen, but it's now clear that a coordinated and revenue-attacking response to dealing with piracy is now developing on a global scale.