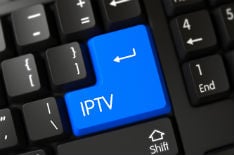 Last Tuesday a year-long investigation came to a climax when the Intellectual Property Crime Unit of the Cypriot Police teamed up with the Cybercrime Division of the Greek Police, the Dutch Fiscal Investigative and Intelligence Service (FIOD), the Cybercrime Unit of the Bulgarian Police, Europol's Intellectual Property Crime Coordinated Coalition (IPC³), and the Audiovisual Anti-Piracy Alliance (AAPA), to raid a 'pirate' TV operation.
Official information didn't become freely available until later in the week but across Cyprus, Bulgaria and Greece there were at least 17 house searches and individuals aged 43, 44, and 53 were arrested in Cyprus and remanded in custody for seven days.
According to Europol, the IPTV operation was considerable, offering 1,200 channels to as many as 500,000 subscribers around the world. Although early financial estimates in cases like these are best taken with a grain of salt, latest claims suggest revenues of five million euros a month, 60 million euros per year.
Part of the IPTV operation
(credit:Europol)
As previously reported, so-called 'front servers' (servers designed to hide the main servers' true location) were discovered in the Netherlands. Additionally, it's now being reported by Cypriot media that nine suspects from an unnamed Internet service provider housing the servers were arrested and taken in for questioning. But the intrigue doesn't stop there.
Well in advance of Europol's statement late last week, TorrentFreak was informed by a source that police in Bulgaria had targeted a specific ISP called MegaByte Internet, located in the small town of Petrich. After returning online after a day's downtime, the ISP responded to some of our questions, detailed in our earlier interview.
"We were informed by the police that some of our clients in Petrich and Sofia were using our service for illegal streaming and actions," a company spokesperson said.
"Of course, we were not able to know this because our services are unmanaged and root access [to servers] is given to our clients. For this reason any client and anyone that uses our services are responsible for their own actions."
Other questions went unanswered but yesterday fresh information coming out of Cyprus certainly helped to fill in the gaps – and then some.
Philenews reports that a total of 140 servers were seized in Bulgaria – 60 from the headquarters of MegaByte Internet and four other custom locations, and 80 from two other locations in the Bulgarian capital, Sofia. (This information is contested by MegaByte Internet, see update below)
At least as far as locations go, this ties in with a statement provided by MegaByte to TF last week which claimed that some of its equipment was seized from Telepoint, Bulgaria's biggest datacenter.
The investigation continues.
Viewing cards facilitating feeds…
Update: A spokesperson for MegaByte Internet says that no servers were taken from their offices, only from the Telepoint datacenter in Sofia where 70 servers were seized.