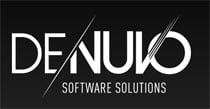 When file-sharing was first getting off the ground, groups like the RIAA and MPAA were public enemy number one. They're not exactly popular now but neither receive the hatred liberally poured on Denuvo.
The brainchild of Austria-based Denuvo Software Solutions GmbH, Denuvo is an anti-tamper technology designed to protect underlying DRM products. It's been successfully deployed on gaming titles but just recently it's iron skin has been showing the cracks.
After all previous versions were defeated, in January version three of Denuvo fell to pirates with the release of Resident Evil 7: Biohazard just five days after its street date. It was a landmark moment for a scene that had grown accustomed to Denuvo-protected games trickling down into the piracy scene months after their retail debut.
But while celebrations got underway, it seemed unlikely that Denuvo would simply sit back and take a beating. Indeed, within days of the crack, Denuvo marketing director Thomas Goebl told Eurogamer that improvements to Denuvo were underway.
"As always, we continue working to improve our solution to create security updates for upcoming Anti-Tamper versions. We will do the same with the learning from this bypass," Goebl said.
With all eyes primed for a release of a game using the new technology (the cracking scene has labeled it Denuvo v4), earlier this month Mass Effect Andromeda was cracked by CPY, the group behind most of Denuvo's recent pain. Despite some early claims, the title was actually protected by v3, so the big test was yet to arrive.
Yesterday it did so, in some style.
With its usual fanfare, cracking group CPY announced that it had defeated Denuvo v4 protection on 2Dark, a lesser-known stealth adventure game from the creator of Alone in the Dark.
As seen from the dates in the release notes above, the crack took a little over a month following 2Dark's street date. Denuvo are still likely to claim that as a victory, since the first few weeks of sales were allowed to go ahead piracy-free. However, it's worth keeping in mind that this is the new version of Denuvo which was supposed to put the anti-tamper company back out in front.
With celebrations now at fever pitch in game piracy land, there's an interesting angle to the cracking of 2Dark. First of all, it's apparent that the majority of people are more excited about Denuvo v4 being cracked than they are at the prospect of playing the game. However, the cracking of 2Dark is being seen as particularly sweet for other reasons.
About a month ago, a poster to Reddit's /r/crackwatch highlighted that the developers of 2Dark had made some promises they later failed to keep.
It appears that during a 2014 crowdfunding campaign (French) for 2Dark, developer Gloomywood was asked whether there would be any DRM added to the game. For many game players this would be a deal-breaker, especially if they were the ones financing the game. Here's the assurance that contributors received back.
On the game's Steam page, the truth later emerged with a note confirming that the title would incorporate "3rd-party DRM: Denuvo Antitamper." According to a subsequent interview with Techraptor, that was a result of Gloomywood having to team up with publisher Bigben Interactive who insisted on the protection.
Now all eyes are turning to potential forthcoming releases from CPY, each protected by Denuvo v4. Will Nier Automata, Dead Rising 4, and Bulletstorm: Full Clip Edition fall as well? It probably won't be long before we find out.