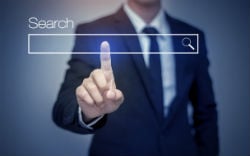 Authorities in Russia maintain a huge database of banned sites, from platforms that promote terrorism to those that engage in unlicensed gambling and copyright infringement.
ISPs are required to prevent their users from accessing these sites by interfacing their systems with the so-called FGIS (Unified Register of Prohibited Information) database. More recently, however, legislation was tweaked so that search engines must also prevent banned sites from appearing in their search results.
Late 2018, this caused problems for Google. While local providers including Yandex and Mail.ru connected to the blacklist as required, Google did not. This prompted local telecoms watchdog Roscomnadzor into action.
In the first instance, the telecoms watchdog contacted Google with a demand that it should immediately connect to the FGIS blacklist. But, despite a meeting with the authorities, Google still refused to comply, something which placed the company in breach of federal law.
As a result, Google was hit with a fine of 500,000 rubles (US$7,595), the lowest amount that can be handed down under existing laws.
Ever since, Roscomnadzor has been encouraging Google to connect to the FGIS but the US-based company has declined. However, it now appears that Google is effectively carrying out the search result delistings the Russians have requested, even though the mechanics appear slightly different.
According to an Interfax source, Google has received a list containing 120,000 'banned' URLs and has been removing them from its search results. Thus far, Google is reported to have deleted around 73% of the illegal content present in the FGIS database from its results using this method.
While checking all of the links is certainly beyond the scope of this article, TorrentFreak checked the results for RuTracker, Russia's most popular torrent site and one that is permanently blocked in the country.
Last year, RuTracker.org and .net featured prominently in Google.ru's results but when searched for using a Russian IP address, they are no longer present.
Interestingly, when searching for RuTracker.org using Google.ru but via a foreign (non-Russian IP address), the results are what one might expect, with RuTracker.org and RuTracker.net as the top results. Nevertheless, Roscomnadzor seem happy with Google's efforts.
"Constructive dialogue and cooperation have been established between Roscomnadzor and Google. At the moment, we are satisfied with the results of this cooperation," Roscomnadzor spokesperson Vadim Ampelonsky told Interfax.
The cooperation appears to have calmed relations between Google and Roscomnadzor on the issue of filtering. Less than a month ago, the telecoms watchdog threatened to fine Google again for non-compliance, warning that Google itself could find itself blocked in Russia.
That threat seems to have been headed off, at least for now.