At TorrentFreak, we have written hundreds of articles about website blocking and censorship. Today, we're featured in one ourselves.
Leaked Google documents reveal that TorrentFreak.com shows up in one of Google's previously unknown blocklists, which actively hides our domain from the Google Now service.
Google Now was a Google search feature that presented users with informational cards, to provide users with more details on subjects of interest to them. While the brand no longer exists, the feature is still present in the Google Android app and its feed.
The controversial blocklist is part of a treasure trove of files that were leaked by whistleblower Zachary Vorhies, who shared them with Project Veritas. The entire collection of files uncovers many previously unknown policies and actions from Google.
"These documents were available to every single employee within the company that was full-time. And so as a fulltime employee at the company, I just searched for some keywords and these documents started to pop up," Vorhies said.
The Google Now blocklist, which is available here, contains nearly 500 domain names. The file starts with APKMirror, eBay and some Google sites, and then continues with several torrent related sites including The Pirate Bay, RARBG and EZTV, as well as some that no longer exist.
TorrentFreak.com is grouped in with the torrent sites. While the list doesn't give a reason for the block, it appears that it's related to the subject of piracy.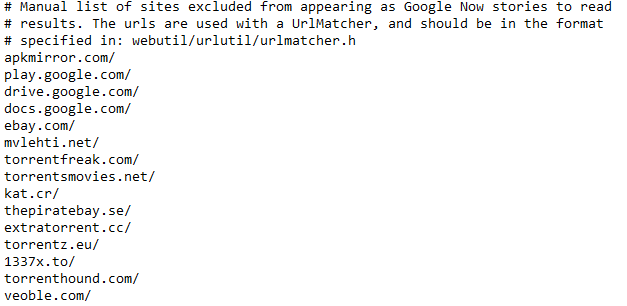 The list then continues with sites that are tagged due to having a "high user block rate." These include quite a few conservative websites. As the description suggests, they may have been filtered because a lot of users block these sites.
Further down the list, there are also a dozen sites that are supposedly "flagged for peddling hoax stories."

This isn't the first Google leak story by Project Veritas. The outlet previously published internal Google documents about what it described as "algorithmic unfairness."
Google obviously wasn't happy with the leaks. The company reportedly sent a threatening letter to Vorhies after it uncovered his identity, and the San Fransisco police later visited the Google insider for a "mental health" check.
The turn of events triggered Vorhies to release the documents in public and step out of the shadows. In addition to sharing the information publicly, he also sent the data dump to the US Department of Justice's antitrust division.
TorrentFreak is not able to independently verify the authenticity of the blocklist or any of the other materials that were leaked. It's also not clear whether the list is up-to-date and still actively used.
We reached out to a Google spokesperson to find out more. including why our site appears on this list, but at the time of writing, we have yet to hear back.
A full copy of all the leaked files, which also contains other documents about censorship, hiring practices, and psychological research, is accessible via Project Veritas. The site also published a detailed video interview with the whistleblower.