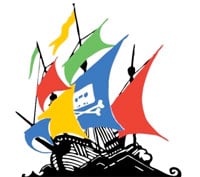 In 2012 copyright holders asked Google to remove a staggering 51.4 million links to allegedly infringing webpages. By the end of the year Google was removing around half a million links per day.
Recovering from a small lull over the Christmas / New Year period, rightsholders were back with a vengeance in 2013.
After a somewhat jittery start, in the week starting February 11 rightsholders asked for the removal of 3,790,409 URLs, smashing the previous weekly record of 3,502,153 set December 17 last year.
But even this new record was eclipsed March 11 with a record 4,043,382 takedown requests.
However, just because a takedown is requested, it doesn't mean that Google always complies.
In December 2012, Google began providing additional detail on requests it refuses to process. Now the search giant is back with a new addition to its Transparency Report which reveals on a daily basis a selection of copyright holders and anti-piracy companies that have been told that their requests will not be honored.
The latest set of results dated yesterday feature URLs which allegedly link to Saturday's big UFC event in Montreal which featured Georges St-Pierre and Nick Diaz.
Underneath each item is a line which states "Requested to be removed in request XXXXXX", which is actually a convenient link to the actual takedown request listed in Google's Transparency Report.
The main request, 535215, shows that anti-piracy outfit MiMTiD asked for 60 URLs to be removed. Google removed 32 but refused to process 17, with the rest pending. Exact reasons for the refusals are not provided, but a check of some of the URLs listed reveals that they don't exist on the target site and/or Google's search.
While this particular sample doesn't appear to show any blatantly stupid takedowns, those that can be described in such terms can be found on a daily basis. These would often be submitted and forgotten, but now they have an opportunity to appear prominently on Google's "featured" list for everyone to see.
There are some great examples, such as this one sent by the Federation Against Copyright Theft on behalf of the BBC. It requests the takedown of links to the BBC show Wonders of the Solar System. As can be seen in the screenshot below, among a selection of torrent sites FACT also asked Google to censor the page that advertises the show on the BBC's own website.
The poor BBC were also targeted by anti-piracy company Audiolock. This outfit was concerned that the UK's leading TV broadcaster was providing links to a pirated copy of The View's album "Cheeky for a Reason", but when in fact it only published a review. Google refused to remove the link, fortunately.
And going deeper into this particular takedown request from Audiolock shows that if it wasn't for Google's diligence then the band's online presence would have suffered even more damage. The request from the anti-piracy outfit asked Google to remove 28 links to allegedly infringing content but the search engine rejected 98% as wrongful.
They include: Removing links to the band's actual music on iTunes, Amazon and Spotify, removing links to the album's Wikipedia page, and censoring album reviews on almost two dozen sites including The Guardian, Independent, Metro, Drowned in Sound, Contact Music and NME.
The embarrassing thing for the anti-piracy groups is that Google's tools allow you to keep digging to see exactly how far the rabbit hole goes and how awful it smells at the end. So we did.
It turns out that Audiolock have another customer called Hospital Records, which is one of the world's most-loved Drum and Bass labels. In this takedown request for 25 URLs, Google denied 84%. Why? Well, Audiolock again tried to remove the label's music from iTunes, Spofity and eMusic, and attempted to censor a whole bunch of legitimate reviews on some of the best Drum and Bass sites around.
But perhaps the most head-shakingly awful one of all can be found here, in which Audiolock tries (unsuccessfully) to take down legitimate tracks from electronic music store TrackitDown, a company which also runs its own successful music anti-piracy company. In fact, TrackitDown have been targeted by Audiolock on several occasions on behalf of at least five different labels.
After noticing the Google takedown, last week we reported on the plight of Torrentz, whose torrent-less homepage was removed from Google following a DMCA takedown from Paramount. We can report that Google reevaluated the report and concluded that the site's homepage could be reinstated with immediate effect.
Google not only deserves praise for its Transparency Report but apparently its diligence in stopping takedowns that have the potential to damage artists, whose labels think they are handing over money to anti-piracy outfits in order to achieve completely the opposite.