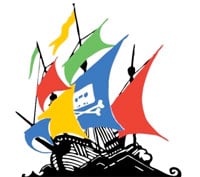 Over the past few years the entertainment industries have repeatedly asked Google to step up its game when it comes to anti-piracy efforts.
These remarks haven't fallen on deaf ears and in response Google has slowly implemented various new anti-piracy measures.
Last year Google made changes to its core algorithms aimed at lowering the visibility of "pirate" sites. Using the number of accurate DMCA requests as an indicator, these sites are now demoted in search results for certain key phrases.
This "Pirate Update" hit torrent sites hard, as early analysis previously showed. However, new research from streaming search engine JustWatch shows that the effect is limited.
Using search engine visibility data from SearchMetrics as well as SimilarWeb's page statistics, the company evaluated how much search engine traffic the top torrent and streaming sites received before and after the algorithm change.
The findings confirm that torrent sites did indeed lose a lot of Google traffic. The graph below shows the search engine visibility ranking for the top 20 torrent sites including The Pirate Bay, KickassTorrents and Torrentz.
Torrent site search engine visibility
However, while Google's update had a dramatic effect on torrent sites, frequently visited streaming portals are seemingly unaffected by the change.
The graph below shows that on average the top streaming sites increased their search engine presence. This means that these streaming portals, including Solarmovie, Couchtuner and Movie4k, remain frequently featured in the top search results.
Streaming sites remain strong
While SearchMetrics data doesn't directly measure traffic, the report estimates that the visibility of streaming sites is 15 times larger than that of torrent sites.
Translated to a traffic number, JustWatch estimates that roughly a third of all visits to the top streaming sites come from search engines, which number nearly three billion since Google's "pirate" update.
Search engine traffic to illegal streaming sites
The critique is not new. In recent months several entertainment industry groups have urged Google to improve its downranking methods or completely remove pirate sites from search results.
Google, however, has stated that removing entire domain names goes too far and could possibly be counterproductive.
As a streaming search engine JustWatch of course has a significant interest in the results they report. Perhaps unsurprisingly, they also encourage Google to improve.
"Google should stand by their word to use the DMCA takedown requests per domain and factor it stronger into their ranking signals," JustWatch CEO David Croyé tells TF.
According to JustWatch pirate streaming sites still dominate the top search results when people enter phrases such as "300 watch online"
Croyé understands that the algorithms want to rank pirate sites higher, because this is actually what people are looking for. However, that makes it harder for legal services to compete.
"We are a self funded startup that wants to connect fans with their favorite movie content worldwide and make it easier also for Google to show more legal offers. We've already aggregated them in a structured way for them"
"So it's in our own interest as a startup to be able to compete with free, but illegal alternatives on Google," Croyé adds.