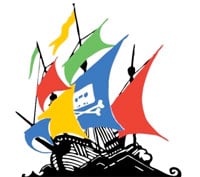 Over the past few years the entertainment industries have repeatedly asked Google to step up its game when it comes to anti-piracy efforts.
These remarks haven't fallen on deaf ears and Google has slowly implemented various new anti-piracy measures in response.
Today Google released an updated version of its "How Google Fights Piracy" report. The company provides an overview of all the efforts it makes to combat piracy, but also stresses that copyright holders themselves have a responsibility to make content available.
One of the most prominent changes is a renewed effort to make "pirate" sites less visible in search results. Google has had a downranking system in place since 2012, but this lacked effectiveness according to the RIAA, MPAA and other copyright industry groups.
The improved version, which will roll out next week, aims to address this critique.
"We've now refined the signal in ways we expect to visibly affect the rankings of some of the most notorious sites. This update will roll out globally starting next week," says Katherine Oyama, Google's Copyright Policy Counsel.
The report notes that the new downranking system will still be based on the number of valid DMCA requests a site receives, among other factors. The pages of flagged sites remain indexed, but are less likely to be the top results.
"Sites with high numbers of removal notices may appear lower in search results. This ranking change helps users find legitimate, quality sources of content more easily," the report reads.
Looking at the list of sites for which Google received the most DMCA takedown request, we see that 4shared, Filestube and Dilandau can expect to lose some search engine traffic.
The report further highlights several other tweaks and improvements to Google's anti-piracy efforts. For example, in addition to banning piracy related AutoComplete words, Google now also downranks suggestions that return results with many "pirate" sites.
Finally, the report also confirms our previous reporting which showed that Google uses ads to promote legal movie services when people search for piracy related keywords such as torrent, DVDrip and Putlocker. This initiative aims to increase the visibility of legitimate sites.
A full overview of Google's anti-piracy efforts is available here.