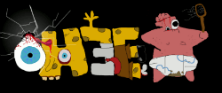 The trouble continues for torrent site H33t, as its new .eu domain has disappeared from the Internet a few hours ago
Earlier this month H33t.com's nameservers had been wiped from the domain records its domain registrar Key-Systems.
The same now appears to be happening to the new .eu domain, as these nameservers have been deleted as well.
Key-Systems previously confirmed to TorrentFreak they were forced to take this action following a local court order obtained by Universal Music Group.
Since the German company is also listed as the registrar for the .eu domain, we assume that they have now been asked to "seize" H33t.eu as well.
TorrentFreak asked H33t's owner about the latest domain troubles but we have yet to hear back from him.