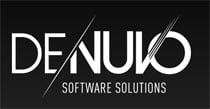 Protecting video games from piracy has become big business over the years. The latest games consoles from Sony and Microsoft appear relatively secure but the same cannot be said about PC titles.
Due to the fact that PC games are loaded onto a platform that is instantly accessible to hackers, it's almost inevitable that any games worth having will have their piracy protections removed at some point and leak online for all to download.
The company on the anti-piracy frontlines is Denuvo. Its anti-tamper technology is fiendishly difficult to crack and as such it regularly finds its way on to many of the gaming world's most cherished titles. However, Denuvo is not infallible so regularly finds itself targeted by crackers.
This weekend, the technology suffered yet another disappointing blow. The long-awaiting stealth game Hitman 2 – which comes 'protected' by the latest variant of Denuvo (v5.3) – leaked online. Aside from having its protection circumvented, this happened three days before the title's official launch on November 13.
It appears that a relatively new cracking group called FCKDRM (more on them in a moment) obtained a version of Hitman 2 that was only available to those who pre-ordered the game. There are some reports of the crack failing at times on some machines but nevertheless, this leak is important on a number of fronts.
Firstly, the game leaked online three days early, rendering the protection when the game finally comes out much less useful. Secondly, presuming the original copy of the game was obtained on Friday when the pre-order copy was delivered, it took just a single day for the group to crack Denuvo's latest protection.
Considering an announcement made by Denuvo just last week, this is a pretty embarrassing turn of events. Denuvo's aim is to protect games in their initial release window and according to the company, having no protection can result in millions of dollars in potential lost revenue in just a couple of weeks.
To be on the safe side, however, the company also highlighted the importance of protecting games for just four days (notably a couple of Denuvo-protected titles recently withstood attack for the same number period). Winding back further still, the company said that even providing protection for an hour is worthwhile. Clearly, minus three days didn't figure into Denuvo's plans.
While several groups have been chipping away at Denuvo for some time, FCKDRM is a new entrant (at least by branding) to the cracking scene. Notably, FCKDRM isn't a 'Scene' group but one that works in P2P circles. At least for now, their identities remain a secret but their choice of name is interesting.
FCKDRM is the official name for the anti-DRM initiative recently launched by GOG, a digital distribution platform for DRM-free video games and video.
There's no suggestion at all that GOG is involved in the cracking of Denuvo, of course, but the FCKDRM group are using GOG's FCKDRM logo when announcing releases, which certainly has the potential to confuse casual pirates.
Given that Denuvo 5.3 was cracked so quickly (some crashing issues aside) it raises questions about other upcoming titles set to use similar technology. They include Battlefield V from EA/DICE, which has its official full release on November 20 but is already available to early access players.