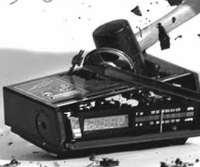 By interviewing 31 CEOs, company founders and VPs who operated in the digital music scene during the past 10 years, Associate Professor Michael A. Carrier at Rutgers University School of Law has produced a most enlightening report on the decade long aftermath of the Napster shutdown.
The interviewees are no lightweights. Included are former Napster CEO Hank Bank, Imeem founder Dalton Caldwell, Seeqpod founder Kasian Franks, Real Networks founder Rob Glaser, Scour VP & General Counsel Craig Grossman, former Gracenote CEO David Hyman, AudioGalaxy founder Michael Merhej, founder of MP3Tunes Michael Robertson, former RIAA CEO Hilary Rosen, and numerous venture capitalists and label execs.
The result is an unprecedented report on how the shutdown of Napster chilled innovation, discouraged investment, and led to a climate of copyright law-fueled fear that pushed technologists and music further apart.
It started with a drain on cash. Interviewees reported that venture capital funding for digital music "became a wasteland", a "scorched earth kind of place" housing a "graveyard of music companies." With the big labels choosing where and when to sue, funding was hard to come by.
Nevertheless, some innovators didn't give up, although when the labels were through with them many probably wished they had. The report details instances where innovators tried to get label approval but found themselves in extremely difficult situations.
One recalled that the labels "don't license you if you don't have traffic" but once enough footfall is achieved then "they want to get paid for 'infringement' and the longer it takes to license you, the larger the 'infringement' number they can justify charging you."
Another described a litigation "Ponzi scheme" whereby settlements and other fees extracted from startups were used to fund the labels' ongoing litigation strategy. However, like all Ponzi schemes there was a problem – maintaining momentum. "Once you stop suing new people there are no new settlements to pay for the ongoing litigation," one interviewee reported.
But the labels weren't always unreceptive to new ideas – as long as they were bad ones. The report notes that the labels were happy to take "big, up-front fees" of "10, 20 million bucks" from startups they knew wouldn't make it. Carrier reports that a leading officer from one label admitted that they would "cripple the companies by demanding such advances and guarantees that they go belly up."
Established services couldn't make progress with the labels either, even when they did everything they could to avoid copyright issues. One, that boasted several million users and "interest from top-tier VCs – really the top of the top," was also sued by the labels.
"After they sued us, our opening offer to them was: 'You guys made your point; we will charge anything you want to charge, and you can take any percentage you want to take," a respondent reported. "It was literally an offer of a blank check." The labels refused and said they wanted the service shut down instead.
But for those who didn't give in to the threats life could get very difficult, not just for their companies, but for them as individuals. The specter of personal liability often raised its head.
One innovator was told by the labels that his company would be left alone but he would be sued personally instead. "We can make all kinds of allegations and it's your job to prove you're not infringing," he was told, with the labels adding that the lawsuit would cost him "between $15m and $20m."
One of the respondents said it was "very scary" when the labels presented a "..multiple inch lawsuit for a couple billion bucks", one with the potential to hang over his head for "the rest of [his] life."
The threats also extended to the families of innovators. One was told it was "too bad" he had children "..who are going to want to go to college and you're not going to be able to pay for it."
Astonishingly, in some cases threats turned into actual violence. One respondent told Carrier about his experiences in the rap business of "people being physically intimidated" and "being hung out of windows."
The strength of the threats were augmented by the uncertainty inherent in copyright law. One innovator said it was like a protection racket or the way politics work in corrupt countries where everything is OK until it's not OK.
"You do what you want until one day you can't and they come and your tail light's broken."
The full 63-page report, Copyright and Innovation: The Untold Story, is available here.