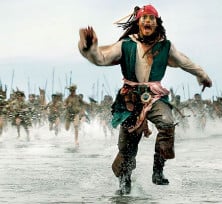 Last December a leaked document from the MPAA exposed Hollywood's global anti-piracy priorities for the coming years.
The leak listed the mysterious term "Fujian" as one of the top priorities, without explaining what the name of a Chinese province has to do with online piracy.
Additional documents seen by TF shed more light on the issue. It turns out that the MPAA is slowly but steadily testing a novel legal procedure through which it hopes to seize the domain names of top pirate sites.
Fujian actually refers to the company "Fujian Sharing Import & Export Ltd," which was sued several years ago for selling counterfeit Polo Ralph Lauren and The North Face clothing.
The counterfeiters used thousands of websites to sell their knockoffs using just as many domain names. If one was taken down, Fujian would simply replace it by a new one selling the same counterfeit gear.
To stop this game of Whack-A-Mole a federal court in New York ordered various intermediaries, including domain name registries, to stop working with the company and hand over the domain names to the clothing manufacturers. If they failed to comply, the registries themselves would be held liable.
In recent years both The North Face and Polo Ralph Lauren frequently updated the list of counterfeit domain names and had them seized by their registries and deleted from search engines.
The movie studios are now planning to use the same strategy against pirate sites. Besides asking reputable domain name registries to take voluntary action, they also plan to use the "Fujian" model in court.
In a detailed overview of its strategies the MPAA says that it wants to "persuade or compel domain name registries that control the reputable gTLDs (e.g., .com, .org) to terminate domain services for demonstrated pirate sites."
"Efforts principally include civil litigation (Fujian strategy) and outreach to registries seeking to ensure they do not provide domain services to pirate sites," they add.
Thus far they have had some success in the U.S. in a lawsuit against a ring of counterfeit DVD sites. However, the tactic has yet to be tried against sites that offer streaming services, torrents or links to pirated material.
Behind closed doors the MPAA admits that targeting domain names will be less effective than site blocking, which is also on the agenda, as sites can move to so-called "rogue" registries. But it is still expected to have a decent impact.
"Nevertheless, domain name termination can be very effective in disrupting pirate sites and the user experience in visiting them. At least temporarily, thesite is made inaccessible," MPAA notes.
"Even sites that come back online can be expected to see reduced traffic, with a corresponding impact on profitability and sustainability," they add.
And there's more to worry about. Looking at one of the most recent (24th!) supplemental order in the Fujian case we see that the court grants rightsholders powers that go much further than targeting domain names alone.
The order also requires search engines to delist the infringing URLs, banks to seize the site's assets, and forbids ISPs, back-end service providers and web designers to do business with the domain name owners.
Whether the MPAA will be successful with their efforts has yet to be seen but persistent pirates may want to learn the IP-addresses of their favorite sites by heart, just in case.