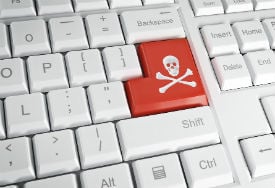 Article 23 of Iran's Copyright law is quite clear. Anyone who publishes, distributes or broadcasts another person's work without permission "shall be condemned to corrective imprisonment for a period of time not less than six months and not more than three years."
That being said, not all content receives protection. Since there are no copyright agreements between Iran and the United States, for example, US content is pirated almost at will in the country. Even the government itself has run 'warez' servers in the past.
That makes the arrest late last month of six men tied to movie piracy site TinyMoviez all the more unusual. At first view (translated image below), the site looks just like any other streaming portal offering Hollywood movies.
TinyMoviez
Indeed, much of the content comes from abroad, augmented with local Farsi-language subtitles or audio voiceovers.
However, according to a source cited by the Center for Human Rights in Iran (CHRI), the site was targeted because rival pirate sites (which had been licensed to 'pirate' by the Iranian government) complained about its unlicensed status.
"In July and August [2017], there was a meeting between a number of Iranian start-up companies and [current Telecommunications Minister Mohammad Javad Azari] Jahromi, who was asked by film and TV series distributors as well as video game developers to help shut down and monitor unlicensed rivals," a film distributor in Tehran told CHRI.
"The start-ups made the request because they could not compete with a site like TinyMovies," the source added. "After that meeting, Jahromi was nicknamed the 'Start-Up Tsar' because of his supportive comments. They were happy that he became the minister."
That being said, the announcement from the authorities suggested broader issues, including that the site offered movies (none are singled out) that may be unacceptable by Iranian standards.
"Tehran's prosecutor, after referral of the case to the Cyberspace corruption and prostitution department, said that the defendants in the case, of whom six were currently detained, produced vagabond and pornographic films and sold them in cyberspace," Tehran Prosecutor Abbas Jafari Dowlatabadi said in an announcement.
"This gang illegally operated the largest source for downloading Hollywood movies and over the past three years, has distributed 18,000 foreign films and series after dubbing, many of which were indecent and immoral, and thus facilitated by illegitimate funds."
While the authorities say that TinyMoviez has been taken down, various URLs (including Tinyz.us, ironically) now divert to a new domain, Timoviez2.net. However, at least for the moment, download links seem to be disabled.