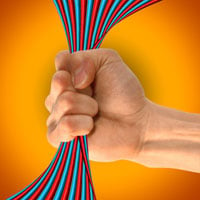 Hundreds of ISPs all over the world limit and restrict BitTorrent traffic on their networks. Unfortunately, this is something that most of these companies are quite secretive about.
Thanks to data collected by Measurement Lab (M-Lab) the public is now able to take a look at the frequency of these BitTorrent throttling practices. Among other tools, M-Lab runs the Glasnost application developed by the Max Planck Institute.
At TorrentFreak we have been keeping an eye on the changes in BitTorrent meddling among ISPs around the world, and today's data is the latest installment. The throttling percentages for various countries and ISPs are based on M-Lab tests that were performed between December 2012 and December 2013.
Looking at the list of countries where at least 100 tests were performed, South Korea (74%), Malaysia (61%) and Singapore (53%) come out on top. Poland is the first European country with 35%, quickly followed by the UK with 28%.
Greece and Romania stand out in a positive sense, as only 7% and 9% of the tested BitTorrent connections were limited. The United States, Canada and Australia perform relatively well too, with throttling rates of 14%, 17% and 18% respectively.
BitTorrent throttling % country ranking (Dec. 12 to Dec 13)
The next step is to look in more detail at several of the individual countries to see which ISPs throttle the most.
United States
BitTorrent throttling in the US is not as prevalent as it used to be. After Comcast was exposed for interfering with customers' file-sharing traffic, the throttling percentage took a dive from nearly 50% to only 3% in the period between 2010 and 2012.
Over the past year, however, Comcast's throttling levels started to rise again to 12%. Cox is currently the worst of the larger ISPs when it comes to BitTorrent throttling with 13%, more than double what it was in early 2012.
Verizon runs the least interference on the BitTorrent traffic of its customers, 6% for Verizon business and 9% for regular accounts.
Worst: Cox (13%)
Best: Verizon (6%)
UK
In the UK, BitTorrent throttling rates are relatively high. Orange is currently the worst offender as it limits 38% of the tested connections. BT comes in second place with 35%, which is down from 65% during the first months of 2012.
At TalkTalk and BSkyB BitTorrent users are better off with throttling percentages of 10% and 17% respectively. For BSkyB this is a hefty increase, as the throttling rate is up from only 4% two years ago.
Worst: BT and Orange (35 and 38%)
Best: TalkTalk (10%)
Canada
Traditionally, nearly all of the major Internet providers in Canada have been heavy throttlers. Rogers in particular has a bad reputation, as it limited more than three-quarters of all BitTorrent traffic for years on end. This year, however, there are signs of improvement.
During 2013 Rogers interfered with only 20% of all BitTorrent transfers, down from 80% two years ago. Bell has shown the most progress though, moving 77% to 8% this year. Eastlink is currently the worst performing ISP in Canada, limiting 31% of all tested connections.
BitTorrent users in Canada are best off at Cogeco and Telus with 3% and 0% respectively.
Worst: Eastlink (31%)
Best: Bell (8%)
Australia
BitTorrent is extremely popular in Australia, but over the past year BitTorrent throttling has been relatively moderate.
iiNet is the worst offender interfering with 21% of BitTorrent downloads, up from 11%. Dodo performs the best of the larger ISPs, with a throttling rate of 12%.
Worst: iiNet (21%)
Best: Dodo (12%)
—
All in all we can say that BitTorrent traffic is still heavily limited, mostly in Asia. In all countries there are quite large differences between various ISPs. For BitTorrent users it is wise to ask ISPs about their traffic management policies and take a look at the M-Lab data before signing up.
If we haven't mentioned your Internet Provider above, an overview of all the data is available here. Those who want to know whether BitTorrent traffic is being limited by their ISP can test their connection with the Glasnost tool.