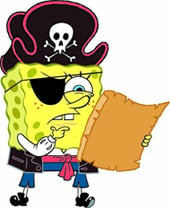 There are hundreds of 'pirate' sites on the Internet today, most of them run by groups who choose to remain in the shadows. Identities are prized pieces of information in the torrent and streaming worlds and they're extremely tightly guarded.
There are exceptions of course. The original people behind The Pirate Bay are well known public figures and the same can be said of Gary Fung of isoHunt, for example. In general, however, people tend to distance themselves from piracy in case groups like the MPAA and RIAA decide to pounce.
That being said, apparently there are those who really couldn't give a damn.
Established in 2005, Connect Communications is one of the largest Internet service providers in Karachi, Pakistan, and they are proud of it.
"Connect Communications offer state of the art broadband connection to your home on ethernet with trunk network on Optical Fiber. Now you can take full advantage of Gigabit Network for your various network utilities," the company says.
"Our Residential Broadband access gives you the ultimate high speed Internet experience with download speeds up to 100Mbps. Download a full length movie in under 10 minutes or take advantage of our DoDear services such as playing online games at Connect's game arena or downloading movies and music."
Of course, many ISPs offer downloads but Connect's DoDear service really goes the extra mile. It's advertised on the company's main page, as shown in the screenshot below (bottom right).
After accessing the DoDear portal one can immediately see this is no ordinary ISP service. On the main page lists of TV shows and movies appear alongside torrent-site like categories such as software, games, movies, videos and music. Clicking the movie tab removes all lingering thoughts that this might be a legitimate service.
With released and unreleased movies on the left and links to the uTorrent and BitTorrent clients plus VLC media player on the right, it soon becomes clear that Connect Communications are running a fully-fledged pirate site. And to make things easier for pirates, DoDear even allows users to filter movies by cam, telesync (TS), screener and master (DVDrip).
Software pirates are well catered for too. DoDear has several hundred applications for download, all neatly arranged with cover art for each title. The site also has plenty of games which are conveniently split into genres such as racing, action, adventure, shooting and sports.
Another factor which will be quite alien to torrent site users is the fact that DoDear is publicly recruiting for people to help run their portal.
"At dodear we are always seeking talented, creative and innovative professionals. If you're the one with a passion for learning and exploring yourself and having the enthusiasm for proving youself then we can provide a fair value to you," the service notes in its 'careers' section.
This somewhat bizarre situation probably gives a flavor of why the United States Trade Representative considers Pakistan to be a piracy problem. Interestingly, however, the United States downgraded the threat last month, apparently because progress is being made.
"USTR is moving Pakistan from the Priority Watch List to the Watch List in 2016 with an [out of cycle review] due to the Government of Pakistan's significant efforts to implement key provisions of the Intellectual Property Organization of Pakistan Act of 2012 and the newfound determination with which Pakistan has approached IPR over the past 12 months," the USTR said in its latest Special 301 Report (pdf).
For the curious, the DoDear pirate portal can be found here although people looking to download will be disappointed. Torrent links are blocked for non-Connect Communications customers.