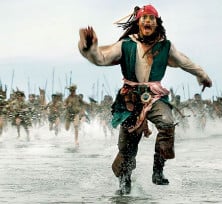 In recent years Internet provider Bahnhof has fought hard to protect the privacy of its subscribers.
The company has been a major opponent of extensive data retention requirements, launched a free VPN to its users, and recently vowed to protect subscribers from a looming copyright troll invasion.
This week Bahnhof reiterated its pro-privacy stance by stressing that it doesn't hand over personal details of alleged pirates, not even to the police.
For the first time in history the company published details on the nature of police data requests. Interestingly, this reveals that file-sharing 'crime' is the largest category by far.
Of all requests received by the ISP well over a quarter, 27.5%, were for cases related to online file-sharing. This trumps other crimes such as grooming minors, forgery and fraud.
"We want to publish these figures to show that police are violating people's privacy and putting resources into meaningless trifles," Bahnhof CEO Jon Karlung says, commenting on the release.
While the total number of 40 requests is relatively modest the data shows that file-sharing is high on the agenda for the Swedish police. However, from Bahnhof they shouldn't expect any cooperation.
Citing European privacy regulations the Internet provider says that it will only hand over data to the police if the complaint applies to a serious crime, which doesn't apply to piracy according to the company.
The ISP's decision goes against the recommendation of the Swedish Telecoms Authority as well as the police, and a future court ruling is expected to provide more clarity on the issue.
Until then, Bahnhof will continue to shield alleged file-sharers from police requests for their personal data.
"The IP address is your fingerprint on the web," Karlung says, noting that it's tied to people's browsing habits and all sorts of private data. "It shall not be disclosed without strong reasons."
The recent comments fall in line with the ISP's critique on the ongoing push to criminalize file-sharing in Sweden. Just a few weeks ago Karlung dismissed calls for harsher punishments for online piracy, noting that rightsholders should concentrate on developing better legal options instead.
For their part, the police note that the high number of file-sharing related requests are the result of increased enforcement efforts from copyright holders. When these report criminal activity, police are obliged to investigate the matter.
—
Credit: Translated chart by Rick Falkvinge