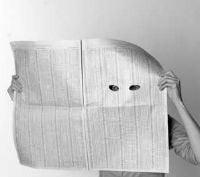 For so many years, citizens have believed that what they do online is largely a private matter. Some continue to labor under the misconception that online events are somewhat transient but in many respects the Internet is becoming the network that never forgets.
In March 2015, Australia's parliament passed legislation which requires all Internet service providers and telecoms companies to store their customers' metadata. Despite cries from the public, the law swept into the books largely unhindered.
The Telecommunications (Interception and Access) Amendment (Data Retention) Bill 2015 (pdf) covers large swathes of data. When a subscriber uses the Internet, for example, telcos are required to log their account name, date, time and connection duration against the service they access.
Companies are also required to log location data, including where any communications begin and where they terminate. Fixed line, WiFi, and cell phone connections are all covered by the legislation, which scoops up data on everything from social networking activity to visits to file-sharing sites.
Considering the scale of the project, ISPs and other telcos were given a year to have systems installed to handle the huge quantities of data involved in spying on millions of Australians. That deadline ran out today, meaning that for the man in the street, online privacy is now a thing of the past. Or is it?
Australian privacy rights group Digital Rights Watch (DRW) think they can make a difference. A few hours ago they urged citizens to fight back against mass surveillance, declaring today, April 13, "National Get a VPN Day."
"It's important that we mark this date – and pause to remember that a detailed picture of the private lives of Australian citizens is being collected by telecommunication companies on behalf of the Government. Many interactions we have in the digital world are being collected and stored by our communications providers, all without adequate safeguards" says Digital Rights Watch Chair Tim Singleton Norton.
DRW notes that the growing uptake of VPN services among Australians is a sign that the public doesn't appreciate being spied on. While that's almost certainly the case, Aussies have a long history of VPN use for other purposes too.
For years, when Netflix wasn't available locally, Australians bought the service from overseas territories, such as the United States. Then, when Netflix finally landed on local shores, people used VPNs to access the better content selections available on Netflix in other countries.
Then last year, following massive pressure from copyright holders, VPN services received yet another boost when the Federal Court handed down instructions for ISPs to block The Pirate Bay and several other pirate sites.
So, along with fighting geo-restriction and web blockades, ISP surveillance is now giving Aussies yet another reason to pick up a VPN, if they don't have one already.
"That's why we've declared today as a national day of action – we're calling upon Australian citizens to educate themselves about the scale of this surveillance and take precautions accordingly," DRW says.
"If the government wants to surveil its citizens, then we'll do everything in our power to equip people to circumvent that surveillance. If it takes every Australian having to run their digital lives through a VPN for the government to recognise that, then so be it."
In addition to launching a Twitter campaign (#GetaVPN), DRW has an advice page with links to sites and resources offering information on VPNs and their use. TF's own VPN anonymity guide is featured along with other good resources.