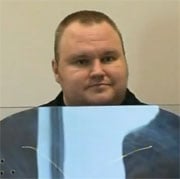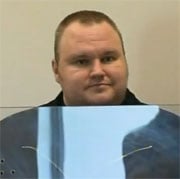 Last Friday, the founder of MegaUpload, Kim Dotcom, was denied bail in an extradition hearing in New Zealand.
Dotcom, who was raided by 76 armed police in helicopters the day before, is wanted in the United States alongside other key MegaUpload employees on racketeering, copyright infringement and money laundering charges.
Today, he reappeared in court again. Dotcom denied charges of copyright infringement and money laundering and said that he was the victim of a campaign to paint him in the worst possible light.
Dotcom's lawyer, Paul Davison, told the hearing at the North Shore District Court in Auckland that his client merely ran a site offering online storage for Internet users and had not been involved in any criminal activity. Dotcom's height and significant frame would only reduce the chances his client would abscond from bail, Davison insisted.
"He is not the sort of person who will pass unnoticed through our customs and immigration lines and controls," Davison told the court.
The prosecution, pointing to nearly four dozen credit cards found when Dotcom was arrested, said that Dotcom's significant financial resources meant that fleeing was a real possibility. But despite Davison's assurances that Dotcom is merely a collector of credit cards, most of which had expired, Prosecutor Anne Toohey persisted.
Dotcom's resources, multiple identities, multiple passports, and past history of fleeing criminal charges placed him as a flight risk "at the extreme end of the scale," she said.
Judge David McNaughton said that due to the complex nature of the case he would delay his decision.
On the other side of the world, two other Megaupload operatives have been arrested in Europe. Although currently unnamed, they are believed to be Julius Bencko, 35, Mega's graphics designer from Slovakia and Andrus Nomm, 32, programmer and head of the development from Estonia.
In the meantime, an immigration scandal is forming around Dotcom's New Zealand residency. This week authorities there confirmed that it had taken Dotcom's colorful past into consideration before giving him permanent residency in 2010 – but only after he'd invested NZ$10 million in government bonds.
"The Immigration Act allows for discretion to be exercised in certain cases. In this particular case Immigration NZ weighed the character issue and any associated risk to New Zealand against potential benefits to New Zealand," the Immigration Service said in a statement at the weekend. Residency was eventually granted to Dotcom under the "investor plus" category.
Judge David McNaughton will deliver his decision on bail no later than Wednesday.