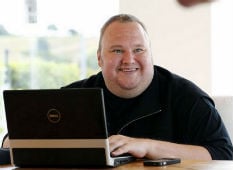 When Megaupload was shut down in January 2012, US authorities did everything within their power to financially ruin Kim Dotcom and his associates.
Aside from taking much of his personal property, tens of millions of dollars of assets were seized around the world.
Under instruction from the U.S. government, US$42.57m in assets were seized in Hong Kong and since then Dotcom has been trying to claw it back, bit by bit.
Back in July, Dotcom revealed that the Hong Kong High Court had released more of his funds, plus four containers of seized property. Noting that he missed the country, he gave thanks for the lifeline.
"Thanks to a Hong Kong Judge my family can move to Queenstown and my kids will be surrounded by beautiful mountains & lakes instead of spies," Dotcom said.
That move eventually went ahead, with Dotcom regularly tweeting beautiful waterside views from his new home over the past few months. But of course, nice things tend to cost quite a bit of money, so Dotcom's legal team have been working hard in Hong Kong to have more funds released.
According to a report from NZHerald, his latest request is fairly sizeable, reaching NZ$1.2m (US$829,400), everything considered.
First up, Dotcom is seeking around NZ$1m (US$691,200) for costs relating to his relocation from Auckland to Queenstown. That's comprised of two years worth of rent at NZ$40,000 (US$27,648) per month (no typo), plus NZ$150,000 (US$103,680) to cover the actual cost of the move.
On top, Dotcom is looking for NZ$73,000 (US$50,457) per month for living expenses, an amount that's roughly US$2,000 per month up on the amount he currently receives.
According to the report, Dotcom's team are also proposing a further amount of NZ$200,000 (US$138,240) to cover emergency items including "medical expenses of the family, car maintenance, household repairs and two holidays of the family".
It seems unlikely that this will be the final request from Dotcom. According to Gerard McCoy, Dotcom's lawyer in Hong Kong, the extradition process in New Zealand is nowhere near complete. In fact, McCoy told the court that proceedings won't be completed during the next two years.
That takes us to 2020, at least, meaning that Dotcom will still be in New Zealand a full eight years after the raid. Given the massive number of court battles and subsequent appeals into every detail of several resulting cases, that's probably not a surprise, however.
The progress in the extradition process itself is also somewhat glacial, with the next hearing set for the first quarter of 2018 in the Court of Appeal. If past experience is anything to go by, neither side will be happy with the outcome. This means that an appeal to the Supreme Court is almost inevitable.
Over in the United States, progress has also been slow. Recently, a petition from Dotcom and his former Megaupload colleagues over millions of dollars in seized assets was denied by the US Supreme Court.
While this decision means that the battle over a further US$67 million in assets has been exhausted, the question of whether Dotcom and former colleagues Mathias Ortmann, Bram van der Kolk and Finn Batato will ever stand trial in the US remains unanswered.