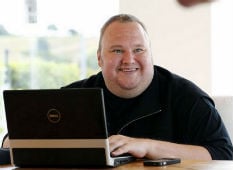 Following an extradition hearing lasting 10 weeks back in 2015, a New Zealand District Court judge ruled that Kim Dotcom and his former Megaupload colleagues could be extradited to the United States to face criminal charges.
Dotcom immediately announced an appeal to the High Court, which took place over four weeks last September. Justice Murray Gilbert handed down his decision today, one that's both thought-provoking and controversial.
At the very center of the US Government's case against Dotcom and former colleagues Mathias Ortmann, Finn Batato and Bram van der Kolk, is the notion that the quartet engaged in criminal copyright infringement. Indeed, it was stated on numerous occasions that their case is the biggest copyright infringement case of all time.
However, in his 363-page ruling (pdf), Justice Gilbert found that there is no equivalent copyright crime in New Zealand that would allow Dotcom and his co-defendants to be transferred to the United States under the extradition treaty.
"One of the central issues in the case is whether copyright infringement by digital online communication of copyright protected works to members of the public is a criminal offense in New Zealand under the Copyright Act," an announcement from the Court reads.
"The High Court has held that it is not, contrary to the conclusion reached in the District Court. The appellants have therefore succeeded with one of the main planks of their case."
While this might initially sound like the best possible news for Dotcom and his colleagues (and it may yet prove useful), that's not the full picture. The US Government wants to extradite the quartet to face trial on a total 13 counts, which include allegations of conspiracy to commit racketeering as well as money laundering and wire fraud.
So, while the copyright infringement charges have now been ruled out as grounds for extradition, the other charges remain.
In today's ruling, the High Court found that while the District Court's decision of December 2015 was flawed in detail, its conclusion that the extradition of Dotcom and his colleagues can go ahead still stands, "because there are available pathways for extradition" on each count.
"[T]he High Court has confirmed that Mathias Ortmann, Bram van der Kolk, Kim Dotcom, Finn Batato (the appellants) are eligible for extradition under section 24 of the Extradition Act 1999," the Court's summary reads.
According to Justice Gilbert, the core of the case deals with a conspiracy to defraud – an extraditable offense – but in comments this morning, Dotcom said that even that shouldn't be applicable.
"I'm no longer getting extradited for Copyright. We won on that. I'm now getting extradited for a law that doesn't even apply," he wrote.
"The U.S. Supreme Court has ruled that copyright charges can't be fraud charges. Let's just ignore that minor detail over here in New Zealand."
In a statement, Dotcom's barrister Ron Mansfield said that having won the copyright infringement argument, it is "extremely disappointing" to have a negative outcome overall, but all is not lost.
Supporting Dotcom in his assertion that the US Supreme Court has ruled that copyright infringement is not fraud, he explained that the situation in New Zealand doesn't support it either.
"The High Court has accepted that Parliament made a clear and deliberate decision not to criminalize this type of alleged conduct by internet service providers, making them not responsible for the acts of their users," he said.
"For the Court to then permit the same conduct to be categorized as a type of fraud in our view disrupts Parliament's clear intent. The High Court decision means that Parliament's intended protection for internet service providers is now illusory. That will be a concern for internet service providers and impact on everyone's access to the internet."
It will be of little surprise to learn that despite this ruling, the battle isn't over yet. Mansfield confirms that this "politically charged and misunderstood case" will now head off to the Court of Appeal.
"We remain confident that this last point, which would prevent extradition in this complex and unprecedented legal case, will be resolved in Kim's favor in a manner consistent with Parliament's intent, international law and, importantly one might think, the United States' own law," he concludes.
So what next for this epic case?
In the short term, it's expected that both sides will challenge aspects of Justice Gilbert's ruling at the Court of Appeal. Depending on the outcome there, the case could conceivably move to the Supreme Court and from there into the hands of the Minister of Justice. All of that could take another two years – or more.