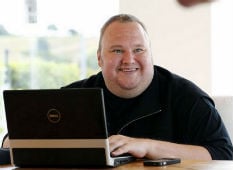 In 2012 following the raid on his New Zealand mansion, Kim Dotcom fought to gain access to the information being held against him by the FBI.
A ruling by District Court Judge David Harvey in May of that year, which stood despite an August appeal, ordered disclosure of all documents relating to the alleged crimes of the so-called Megaupload Conspiracy.
While it was agreed that this information should be made available, an order forbidding publication was handed down in respect to the so-called Record of Case, a 200-page document summarizing an estimated 22 million emails and Skype discussions obtained by the FBI during their investigation.
Last November a sealed court order by US Judge Liam O'Grady already allowed the U.S. Government to share the summary of evidence from the Megaupload case with copyright holders, something which was actioned before the end of the year.
Over in New Zealand, however, Kim Dotcom has been fighting an application by the Crown to make the Record of Case public. That battle came to an end today when Auckland District Court Judge Nevin Dawson rejected an application by Dotcom's legal team to extend the suppression order placed on the document.
According to RadioNZ, the document contains sensitive information including email and chat conversations which suggest that the Megaupload team knew their users were uploading copyrighted material.
In another setback, further applications by Dotcom to force Immigration New Zealand, the Security Intelligence Service, and several other government departments to hand over information they hold on him, were also rejected by Judge Dawson.
Dotcom's lawyer Paul Davidson, QC, told Stuff that the battle will continue.
"We will press on with our resolve," he said.