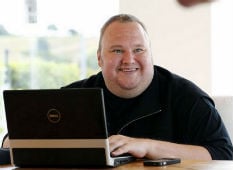 To celebrate the five year anniversary of the Megaupload raids, in January 2017 Kim Dotcom hopes to deliver a brand new file-sharing system to the masses.
Provisionally titled Megaupload 2.0, Dotcom says the system will take decentralization, anonymity & encryption "to the next level" by connecting file transfers to bitcoin transactions.
Importantly, the new iteration of Megaupload will launch with the original Megaupload's user database, which could potentially mean 100 million users checking in shortly after launch. Unsurprisingly then, news of the project has been generating a lot of interest online, even before any hard technical details have been made public.
While Dotcom is yet to reveal any of his investment partners, he has just made a surprise announcement concerning who he won't be doing business with. It began with a tweet in which Dotcom claimed he'd been offered cash to participate in what he saw as a "pump and dump" deal.
Stay away from $MGT. They offered $500k for a no-substance partnership announcement with the sole purpose to pump up $MGT stock. I declined.

— Kim Dotcom (@KimDotcom) August 17, 2016
The MGT to which Dotcom refers is MGT Capital Investments, a company which advertises itself as dealing with cyber threats "through advanced protection technologies for mobile and personal tech devices." Early May, security expert John McAfee was confirmed as the company's new CEO and a chaotic period of stock trading ensued.
So why was MGT trying to get involved with Megaupload 2.0? TorrentFreak spoke with Dotcom to find out more and it transpires some big numbers were involved.
"[MGT's approach] was connected to the new businesses I'm working on. They offered to invest $30m in cash and $MGT stock. But after some due diligence it became clear that their offer was unrealistic," Dotcom informs TF.
"They didn't have the substance to make such an offer. When I questioned that they responded that the substance can be created by the partnership announcement. Meaning an increase in stock value which would make the stock component of the deal more valuable"
While $30m plus stock might sound like a lot, Dotcom said he poured cold water on the idea.
"I told them I'm not interested in pumping up $MGT stock and that they need to raise the money first before we can enter into any kind of agreement," he explains.
Undeterred, MGT had another proposal for the Megaupload founder.
"Then they offered $500k for signing a Letter of Intent to be announced at a big press conference during Defcon. The whole thing was designed to drive up the $MGT stock price with no substance. We declined," Dotcom says.
We asked Dotcom if John McAfee himself was aware of the deal being put on the table.
"John knows about this," he told us. "In my opinion it was all about pump and dump. All they always talked about was the effect of previous announcements on the stock price. That's not how you create value or run a business."
But while Dotcom may not have liked the offer made by MGT, behind the scenes it appears that he had also irritated McAfee.
Eric J. Anderson (Eijah) is a former Rockstar games developer and the founder of anonymous information sharing app DemonSaw, a product endorsed by McAfee. Dotcom says he offered Anderson, McAfee's friend and the CTO of MGT, an important job.
"I offered Eijah [the] CTO role at Megaupload 2.0 – he agreed. Mcafee goes mental, scares Eijah, making serious threats," Dotcom reveals.
"I decided to come forward about $MGT when I witnessed how Mcafee abused Eijah. I'm not concerned about the fallout. I stand up for friends."
And now it appears the touchpaper has been lit. In a message from McAfee last evening, the security expert warned Dotcom that things might get a little bumpy today.
I have decided to play video games all day tomorrow :-) pic.twitter.com/RTm63PyBSL

— Kim Dotcom (@KimDotcom) August 17, 2016
Early reaction to Dotcom's decision to go public about the MGT offer has been largely positive, with people praising the businessman for coming clean. However, Dotcom says his decision to go public could have its downsides.
"I had to say something. I know I'm exposing myself to attacks by $MGT but I had to go public. Based on everything I have learned about $MGT there is no substance, yet," he says.
"They might create substance in the future. They might come up with real products that create real value. But at the moment they are focusing on making announcements to drive up the $MGT stock price instead of creating real value for investors. It's unethical and that's why we declined the money and I went public."
TorrentFreak contacted MGT but the company did not respond to our request for comment.