The file-sharing settlement business has humble roots, but is now turning into big business. As revealed last week, Rightscorp is growing its operation in leaps and bounds, obtaining tens of thousands of settlements from US-based users on behalf of rightsholders.
While Rightscorp seeks small settlements of a few dollars per alleged offense, other companies really do earn their copyright troll label with demands for thousands of dollars/euros per infringed item. US citizens have parted with millions of dollars in recent years but spare a thought for the people of Germany, who were introduced to this model in the middle of the last decade.
Information supplied to TorrentFreak by Christian Solmecke of the Wilde Beuger Solmecke law firm, shows that plenty of well-known companies are involved in the German settlement market. Record companies EMI, Sony and Warner, US porn trolls Malibu Media, plus big movie companies including Universal and Twentieth Century Fox were all active last year.
New figures made available by IGGDAW, an interest group that works with targets of predatory rightsholders, reveal that the business has shown little sign of let up during the past 12 months.
During 2013, a total of 108,975 threat letters were sent out to Internet users, a modest decrease of 1.3% over the number sent in 2012. As can be seen in the chart below, the number is thankfully just a fraction of the huge numbers sent in 2009 and 2010.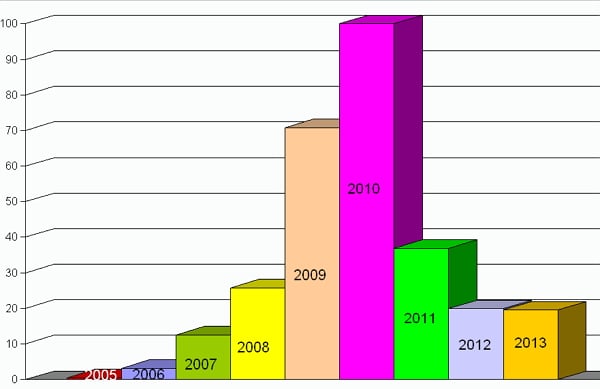 While the number of threats sent is slightly down, rightsholders and law firms involved are both on the rise. A total of 446 rightsholders employed 72 law firms to send out letters in 2013, versus 422 and 65 respectively in 2012.
Content-wise, the greatest number of settlement requests were sent out for regular movies ('spielfilm') with 43.9% of the total. Adult movies ('porno') trailed quite a way behind in second place with 24.2%. Music tracks came a close third with 22.8% of the total.
For yet another year the all-important settlement numbers make for bleak reading. In 2012 the average amount demanded from letter recipients was 796.87 euros ($1,094), an amount that increased to 829.11 euros ($1,140)in 2013.
Multiply that by the number of threats sent (108,975) and we reach a figure in excess of 90.3 million euros, or around $124 million. How many people actually settle remains unclear but German law is geared up to put pressure on Internet users to pay up.
So where now for Germany?
It was hoped that new legislation (Improper Business Practices Act) introduced last October would assist by imposing transparency requirements on law firms sending out letters and capping the amounts they can claim. But according to Christian Solmecke, the law firms involved have adjusted accordingly.
"The new rules do not go far enough. The position in which internet users find themselves is hardly any better than that in which they were in before the legislation came into force," he concludes.